La Bella Cucina
Photography by Clay Dolan
For the Santaguida brothers, the kitchen has always been a place where memories are made. Watching their mother Vittoria prepare family meals with loving care left the siblings with a profound respect for the power of a simple meal. Owners of Santaguida Fine Foods Catering and Rapido Café in Toronto, Marco and Carlo opened Venti Venti in Thornbury as a temporary pick-up location for prepared foods during the lockdown. Well, it's been over a year, and what was intended as short-term has become a mainstay in the community. Venti Venti offers an ever-changing selection of ready-made meals fit for the finest of dinner parties, unique snacks, beverages and fun stuff for the home,  cottage or chalet.
Joanna de Jager-Santaguida (Carlo's talented wife) is the baker of the bunch—she continually astounds patrons with her savoury pies packed with flavour. Together, chefs Marco, Carlo and Joanna are proud to share three delectable recipes inspired by their European heritage. From Bolognese to osso buco to a winter fruit "fool", these flavourful (and relatively simple) dishes are as foolproof (pun intended) as they are delicious—gather family and enjoy!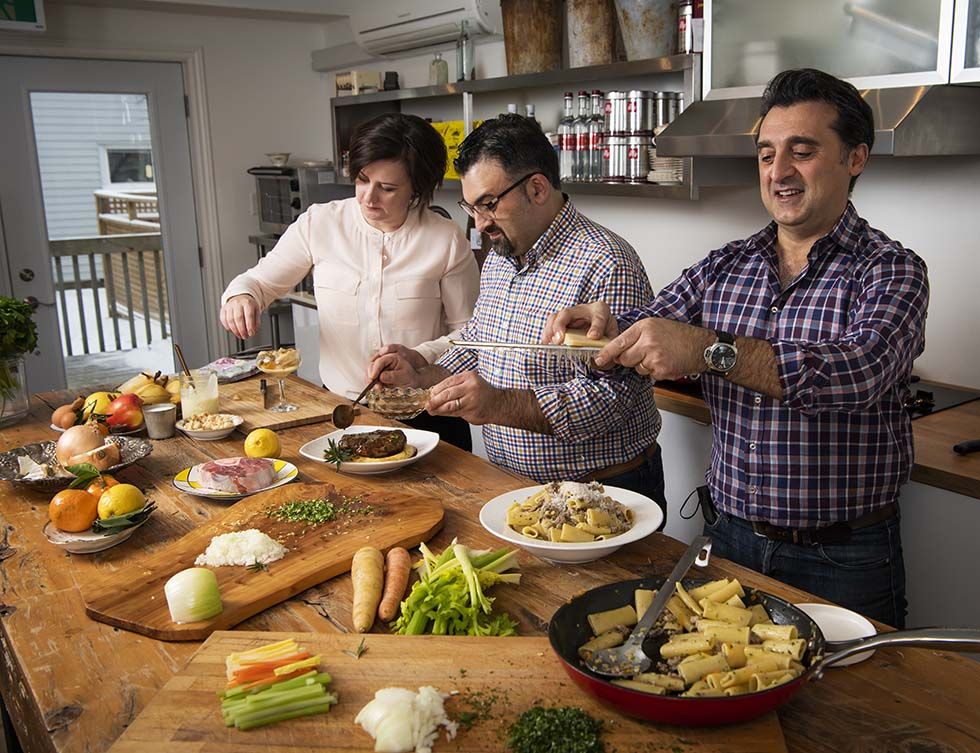 RIGATONI WITH BOLOGNESE BIANCO
by Marco Santaguida
A simple, lighter cousin of the traditional Bolognese, this Bolognese Bianco with rigatoni noodles will tantalize the taste buds. Chef Marco and his wife Janelle fell in love with this recipe while on their honeymoon in the Tuscan village of Lari. Scoop the Bolognese Bianco onto a bun for a delicious and quick lunch on the go. Serves 4.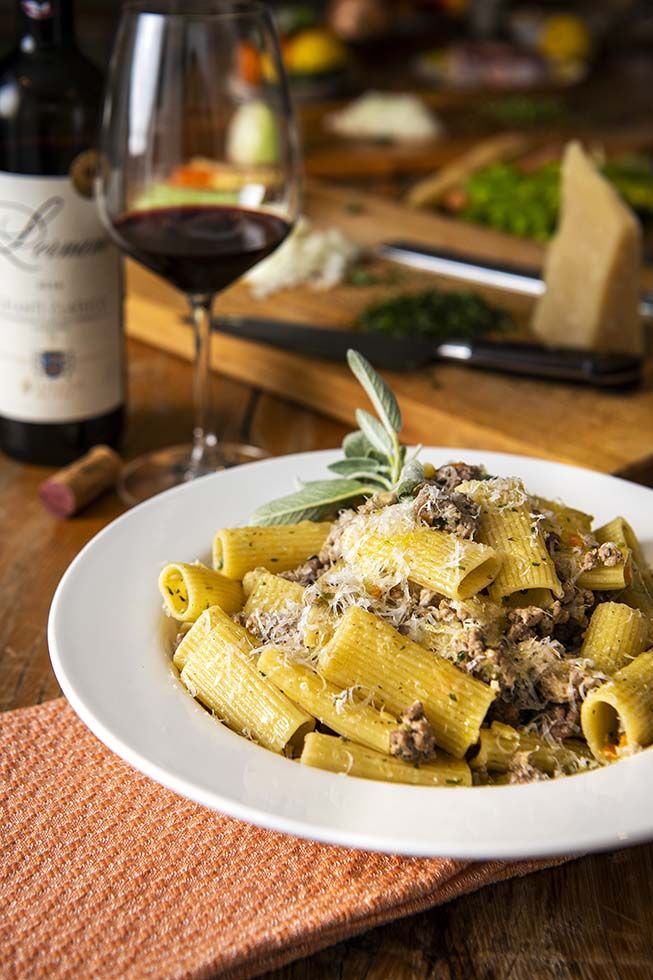 BOLOGNESE BIANCO
2 Tbsp olive oil
1/2 cup of onion (finely chopped)
1 cup of carrot (finely chopped)
1 cup of celery (finely chopped)
1 clove of garlic (mashed)
450 grams ground beef
450 grams ground pork (may substitute beef) 1 Tbsp of butter
4 sage leaves (finely chopped)
2 Tbsp of parsley (finely chopped)
1 cup of dry white wine
4 Tbsp grated parmigiano salt and pepper (to taste)
RIGATONI
1 box of rigatoni (400g to 500g) 1 tsp salt
large pot of water
METHOD BOLOGNESE BIANCO
1 . In a large frying pan, heat 1 Tbsp of olive oil and add garlic and onion. Stir well and add carrot and celery. Cook until the vegetables are lightly browned and softened. Transfer the vegetables to a bowl.
2 . Using the same large frying pan, add the second Tbsp of olive oil. Heat oil and add ground meat. Using a wooden spoon break up the ground meat until it is separated and browned. Add the white wine and cook for ten minutes on high heat. Add the fresh herbs and the cooked vegetables. Stir well and reduce the heat to simmer.
TIP: Start boiling the water while preparing the Bolognese.Cook the pasta while the ingredients are cooking.
RIGATONI
Fill a large saucepan with water, put the lid on and bring to a boil over high heat.
Add one teaspoon of salt.
Once boiling, add the pasta.
Cook the pasta according to the instructions on the package.
Scoop out some of the starchy pasta water using a mug and set aside.
THE DISH! 
Drain the pasta (do not rinse!) and add to the browned meat and vegetables. Turn heat to medium and add the starchy water, butter, salt and pepper. Add the parmigiano and drizzle with olive oil. Stir gently using a wooden spoon.
OSSO BUCO WITH GREMOLATA & POLENTA
by Carlo Santaguida
An aromatic, melt in your mouth experience, Chef Carlo perfected this dish under the guidance of Guido Saldini of the famed Noce and Aria restaurants in Toronto. An Italian staple, osso buco is cross-cut veal shanks braised with vegetables, white wine and broth. Traditionally garnished with gremolata and polenta (a north Italian porridge made of coarsely ground cornmeal), this is truly an Italian classic. Serves 2.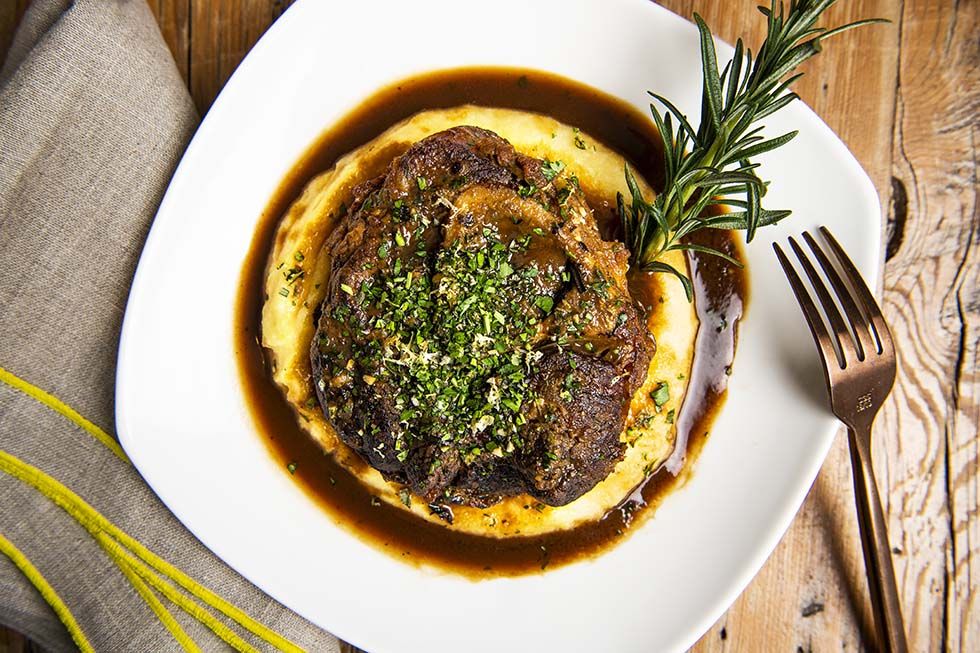 OSSO BUCO
2 pieces of veal osso buco (estimated 8-10 oz each, 1 inch thick)
1/4 cup of all-purpose flour 1/2 cup of onion (finely chopped) 3 cloves of garlic (mashed) 1-2 sprigs of fresh rosemary salt and pepper (to taste)
1 cup beef stock
olive oil
1/2 cup white wine
GREMOLATA
1/4 bunch of Italian parsley (finely chopped, equal to 2 Tbsp)
zest of 1 lemon
1 clove of garlic (finely chopped)
POLENTA
1 cup of regular (not instant) polenta 4 cups of salted water
whole milk
butter
parmigiano cheese
METHOD GREMOLATA
1 . In a small bowl combine the finely chopped parsley, zest of one lemon and the garlic.
2 . Mix and set aside.
POLENTA 
In a medium sized heavy saucepan, bring 2 cups of salted water to a boil, then turn down to a simmer.
In a second medium sized heavy saucepan, bring 2 cups of salted water to a boil. Pour in cornmeal slowly, stirring with a wire whisk. Continue stirring as the mixture thickens.
Turn the heat to low and cook this mixture for 20-25 minutes adding the salted water from the first pot as needed (like you are making risotto).
When the grains are swollen, and they taste cooked then the dish is almost ready.
Before serving, add in roughly 1/4 cup of milk, knob of butter and a good handful of Parmigiano cheese.
Taste for seasoning and enjoy!
OSSO BUCO
Preheat oven to 350 ̊F.
Lightly flour and season the osso buco with salt and pepper.
In a low, wide fry pan or Le Crueset style dish, heat olive oil.
Sear both sides of the osso buco and remove from pan and set aside.
Reduce heat to medium, add chopped onion, smashed garlic cloves and rosemary. Sautee till onion and garlic are fragrant. Deglaze pan with white wine and let reduce for 3 minutes over medium-low heat.
Add beef stock and increase heat to so that the liquid comes to a boil. Lightly season to taste.
Gently add back the osso buco and turn off heat. Cover pan with aluminum foil and place in preheated oven for 1-1/2 – 2 hours, depending on thickness. To check tenderness of osso buco, spear meat with fork and it should be soft as butter.
When ready to serve, remove osso buco from pan. Add 1/2 of your gremolata to sauce and reduce on stove. Sauce should be thick and shiny. To serve, place osso buco on platter and pour over sauce, gently sprinkle over the remaining gremolata. Enjoy with polenta!
POACHED WINTER FRUIT FOOL & ALMOND CRUMBLE
by Joanna de Jager-Santaguida
Chef Joanna was drawn to baking at a young age and is often inspired by decadent, traditional British recipes. This silky, elegant English dessert is the perfect end to a winter's meal. The tartness of the citrus blends perfectly with the sweet fruit, notes of vanilla bean, spices and custard. The "Fool" is simple to prepare, but always a showstopper. Serves 6 to 8.
ALMOND CRUMBLE
225 grams of all-purpose flour Pinch of sea salt
200 grams of cold, unsalted butter (cut into cubes)
150 grams of sugar (white or demerara) 100 grams of ground almonds
CUSTARD
250 ml of 35% cream
250 ml of whole milk
4 egg yolks
2 vanilla pods (split open lengthwise, seeds removed)
80 grams of sugar
2 teaspoons of cornstarch
POACHED WINTER FRUITS
2 firm ripe pears (peeled)
2 quince (peeled) 2 small apples
1 vanilla pod (split open lengthwise, seeds removed)
4-6 Tbsp of runny honey
1 cinnamon stick
4 cloves
6 cardamom pods
zest of 1 orange
zest of 1 lemon, plus a good squeeze of juice handful of each: dried apricot, dried fig, dates
2 -3 oz of brandy (we used Spy Mata Hari Brandy)
METHOD
Start with the winter fruits a day prior so they have time to macerate.
WINTER FRUITS
Put the pears, quince and apple in a pan large enough to fit them snugly in one layer and cover with water. Add the vanilla pod and seeds, honey, cinnamon, clove, cardamom, fruit zest and lemon juice.
Bring to a simmer for 8-12 minutes until the fruit is just cooked.
Pour half of the liquid in a bowl and add the dried fruit and brandy.
Leave the pear, quince, and apple in the remaining liquid and allow the fruit to steep overnight.(If all the fruit is left together, the dried fruit will absorb too much of the liquid.)
ALMOND CRUMBLE
You can also make the crumble a day (or two) earlier, just keep it in an airtight container. This crumble will keep for a couple weeks and can be used to top ice cream, yogurt parfaits etc.
Preheat oven to 350 ̊F.
Combine all the ingredients in a medium sized bowl. Rub together with your fingertips until you have a crumbly consistency. Then, squeeze in your hands to form small clumps.
Crumble these onto a parchment lined baking sheet. Be sure to spread them out evenly.
Bake for about 25 minutes till golden brown and crisp. I would recommend that halfway through cooking time, you give the tray a good stir.
Let the crumble cool and store in an airtight container till you are ready to use it. If you have made it just before serving, it is great warm as well!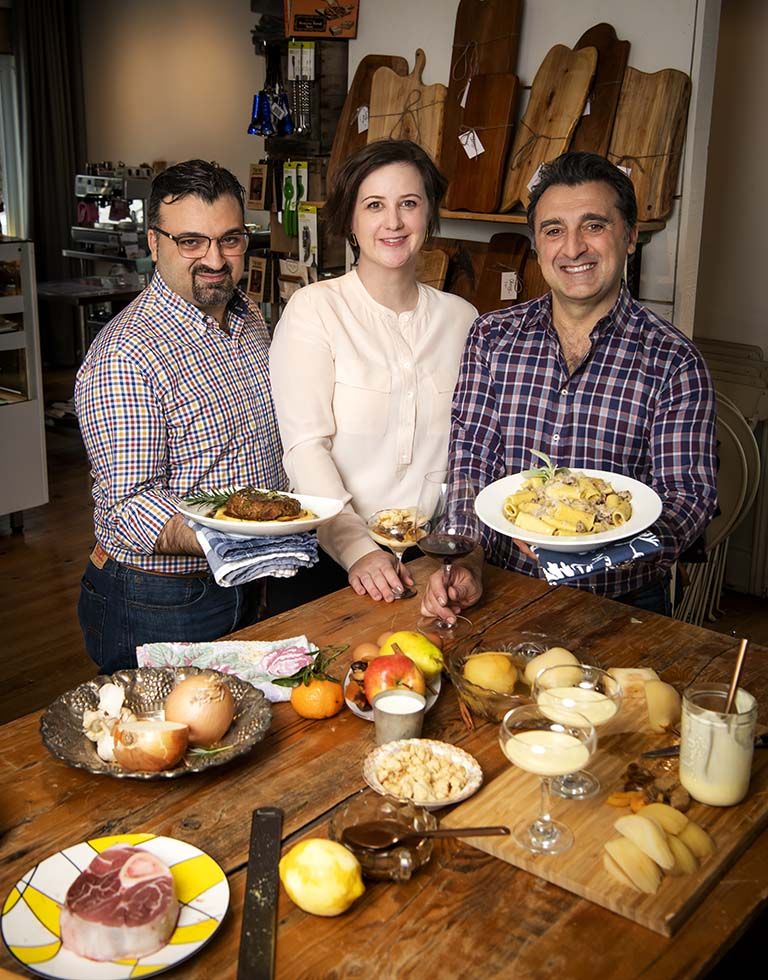 CUSTARD
Put the cream, milk, vanilla pods and seeds in a saucepan and bring just below the boil. Turn off heat and set aside to infuse for about 10 minutes. After 10 minutes remove the vanilla bean. Beat the egg yolks, sugar and cornstarch together in a bowl till smooth. Now pour the hot cream mix into the bowl containing the yolks, sugar and cornstarch. Be sure to whisk all the time. Pour this mix back into your saucepan and heat gently, stirring all the time with a wooden spoon. Do not let it boil. You will know when it is ready when the mixture coats the back of the spoon. When this happens, remove the pan from the heat and strain it into a bowl. You can serve it straightway or leave it to cool.
BUON APPETITO!