Harvest Delights
By Kevin Coulter, photography by Clay Dolan
As the first restaurant to open at Blue Mountain Village, Copper Blues has remained a premiere dining experience since 2002. Best known for perfectly cooked steaks, seafood, pasta and wine, their menu has evolved over the years, but certain dishes have remained unchanged, cherished by their patrons.
With a terrace and mountain views, Copper Blues offers a front-row seat to autumn's splendour, as trees ignite in vibrant colours. "This season brings with it the call for traditional ingredients," says co-owner Dustin Lashambe. "Abundant apples, heartier meats and a sweet ending to every meal."
To celebrate the season, Copper Blues' chef Kevin Coulter shares a few of his favourite autumn dishes, paired with homegrown beer and cider from Thornbury Craft Co. "Please enjoy the following recipes and the wonderful beverages they are paired with—and if you want to compare notes please come visit us this fall, or anytime!"
SORREL SALAD WITH WHITE HONEY BALSAMIC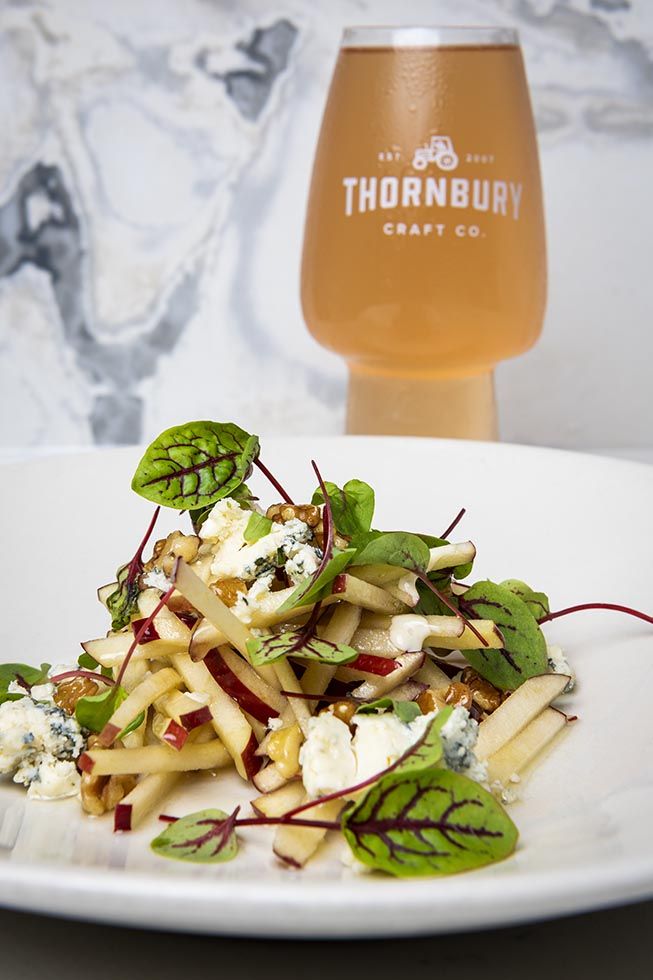 PAIRING: Blue Mountain Light Lager
Blue Mountain Light Lager is a crisp, dry, and invigorating craft lager that draws inspiration from the morning sun rising over Georgian Bay. With a moderately grainy malt flavor and a perfectly balanced, dry, and crisp finish, it's the ideal choice to quench your thirst.
"I've always believed in the beauty of simplicity when it comes to salads. There's no need to overcomplicate what accompanies your greens, and this salad perfectly embodies that philosophy. Local apples take center stage, harmonizing beautifully with the blue cheese, adding just the right amount of sharpness. The finishing touch of sorrel sprouts provides a delightful contrast in texture, nestled between the creamy cheese and the crisp apples." 
Dressing 
½ cup extra virgin olive oil 
3 tablespoons white balsamic vinegar 
2 tbsp honey 
1 medium garlic clove (minced) 
½ tsp kosher salt 
pinch of black pepper 
In a medium-sized jar with a secure lid, combine all the dressing ingredients. Shake the jar vigorously, and remember to give it another good shake before drizzling it over the salad. 
Salad
1 ½ cups sliced apple
4 ounces toasted walnuts
1/3 cup blue cheese
small handful sorrel sprouts (washed)
In a wooden bowl, combine all the ingredients, and for a finishing touch, garnish with sprouts.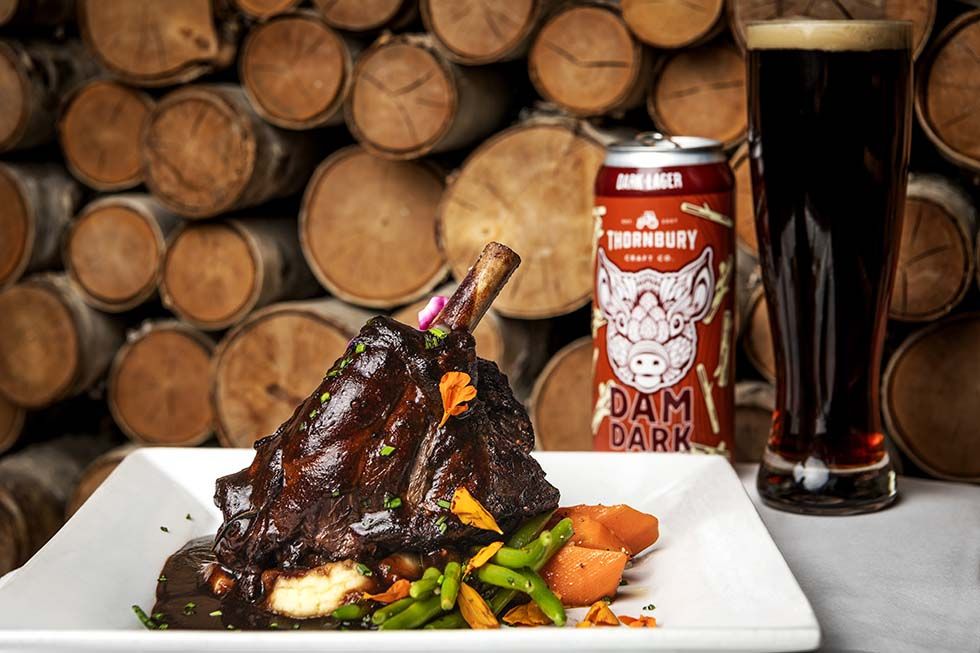 BRAISED LAMB SHANK
"It's hard to express just how much I adore this dish. I often challenge restaurant-goers to give it a try, especially those who claim not to be fans of lamb, and it never fails to impress. While many see it as a hearty autumn meal, and it certainly is, I believe you can pair it with lighter sides and savor it year-round. Preparing it from scratch may not be everyone's cup of tea, but those who embrace the process will relish the delicious results. For those who prefer to skip the hours in the kitchen, you can always join us at the restaurant, where this dish has become a menu staple."
INGREDIENTS
4-6 lamb shanks (trimmed of excess fat)
2 tbsp extra virgin olive oil (divided) 
1 large white onion (diced)
6 garlic cloves (minced)
2 large carrots (thickly sliced) ¼ cup flour 2 cups lamb or beef stock 
1 ½ cups red wine 
14 0z (400 g) passata (tomato puree) 
2 tbsp tomato paste 
2 bouillon cubes 
1 tsp fresh rosemary 
2 tbsp fresh parsley 2 bay leaves 
pinch of salt and pepper
METHOD
1. Preheat the oven to 350°F.
2. Begin by thoroughly washing and patting dry the lamb shanks. In a heavy-based pot, heat oil over medium-high heat.
3. Sear the lamb shanks in the hot oil until they achieve a rich, brown color on all sides. You may need to sear them in batches (2-3 at a time). Once browned, transfer the shanks to a plate and tent them with foil to keep warm. Leave all the juices in the pot.
4. In the same pot, sauté the carrots and diced onion until they become softened. Then, add the garlic and continue to cook for another minute.
5. Return the seared lamb shanks to the pot. Season them with coarse salt and pepper, and sprinkle with flour. Toss everything together well and cook for an additional 4-5 minutes to brown the flour.
6. Add the stock, wine, tomato paste, bouillon, and herbs to the pot. Bring the mixture to a simmer.
7. Cover the pot and transfer it to the lower part of the preheated oven. Let it cook for about 2 ½ hours or until the meat is tender enough to fall apart. Make sure to adjust the heat to maintain a very slow simmer.
8. Carefully transfer the shanks to a plate and tent them to keep warm. Remove the bay leaves from the sauce and place the pot back on the stove. Continue to simmer the sauce over medium heat until it thickens to your desired consistency. Optionally, skim off any excess fat that rises to the surface.
9. You should have approximately 3 cups of sauce. Taste and adjust the seasoning with salt and pepper as needed. Return the lamb shanks to the pot.
10. Garnish the dish with fresh parsley and serve it alongside your choice of mashed potatoes, rice, pasta, or seasonal root vegetables.
PAIRING: Thornbury Dam Dark Lager This authentic Munich-style Dunkel presents a deep mahogany hue, delivering a rich and intricate flavor profile that remains remarkably light and refreshing. On the palate, you'll discover delicate notes of dark chocolate, culminating in a dry and crisp finish. 
APPLE CHEESECAKE WITH SALTED CARAMEL 
"I can't help but smile when asked to describe why we've chosen an apple cheesecake with salted caramel. To me, it's the epitome of a perfectly balanced dessert. Its layered presentation adds a touch of whimsy, and the fact that you can savor each element individually or combine them is what makes it a delightful crowd-pleaser to conclude a wonderful meal shared with family and friends."
Base 
½ cup flour 
1 ½ cup maple syrup 
1 ½ tbsp coconut oil 
¼ tsp cinnamon 
¼ tsp salt 
Cheesecake filling 
¾ cup (1 hour soaked in hot water) cashews 
2 tbsp coconut oil 
¼ cup coconut cream 
1 tsp vanilla extract 
1 ½ tbsp lemon juice 
1 ½ tbsp maple syrup 
Salted caramel
1/3 cup maple syrup
½ cup coconut cream
¼ cup coconut oil
1 tsp vanilla extract
½ tsp flaked salt
2 tbsp pecans (roughly cut)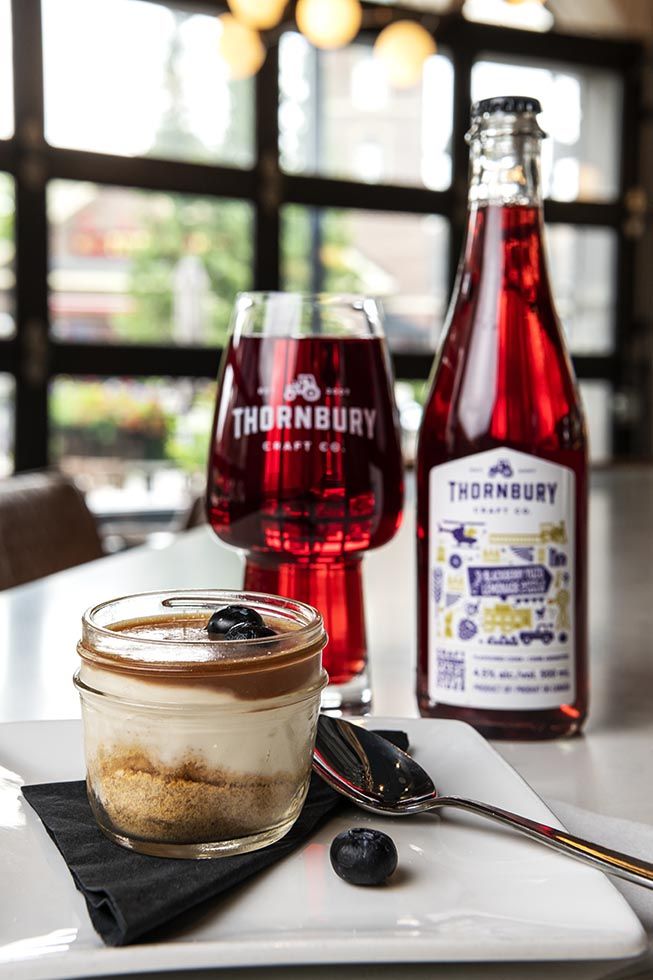 METHOD
Base
In a bowl, combine all the base ingredients and stir until well mixed. Divide the mixture equally among four cups and firmly press it down to form the base.
Filling
Using a food processor, blend all the filling ingredients until you achieve a completely smooth texture. Taste the filling and adjust the flavors to your liking.
Caramel 
1. In a saucepan over medium heat, melt the syrup, coconut cream, and coconut oil. 
2. Once melted, bring the mixture to a gentle boil. 
3. Reduce the heat and let it simmer for 10 minutes, stirring regularly. 
4. Stir in the vanilla extract, salt, and pecans. 
5. Allow the caramel mixture to cool to room temperature. 
6. Evenly distribute the caramel among the four cups. 
7. Place the cups in the fridge and let them cool for an hour to allow the caramel to firm up completely. 
PAIRING: Thornbury Blackberry Yuzu Lemonade Apple Cider 
This aromatic cider showcases alluring scents of ripe blackberries and citrus. Its velvety and smooth texture offers an initial burst of blackberry, followed by invigorating yuzu lemon notes, and concluding with zesty lemonade, intertwined with the essence of blackberries. E