Recipe & Photos by Corynn Fowler
Pancakes topped with fresh rhubarb curd are the perfect breakfast for lazy weekend mornings. Pulling out this colourful topping for brunch is sure to impress, and it can be used to spice up a variety of other breakfast foods, from topping off a bowl of oatmeal, to spreading it on toast with strawberries, I love having this condiment in the fridge all spring long!
what you need…
Pancakes:
– 1 Cup all purpose flour – 2 Tsp baking powder
– 2 Tbsp sugar
– 3⁄4 Cup milk
– 1 Egg
– 2 Tbsp unsalted butter (melted) – 1 Tsp vanilla
– Pinch of salt
Rhubarb Curd:
– 2 Eggs
– 3⁄4 Cup sugar
– 2 Cups chopped rhubarb
– 2 Tbsp water
– 2 Tbsp lemon juice
– 1⁄4 Cup butter, chilled & cubed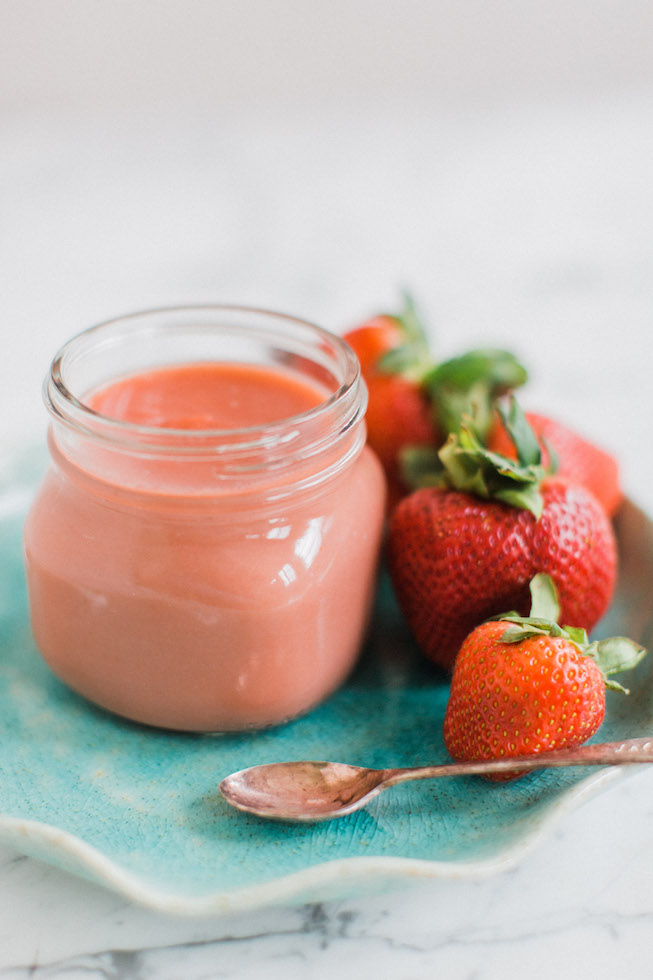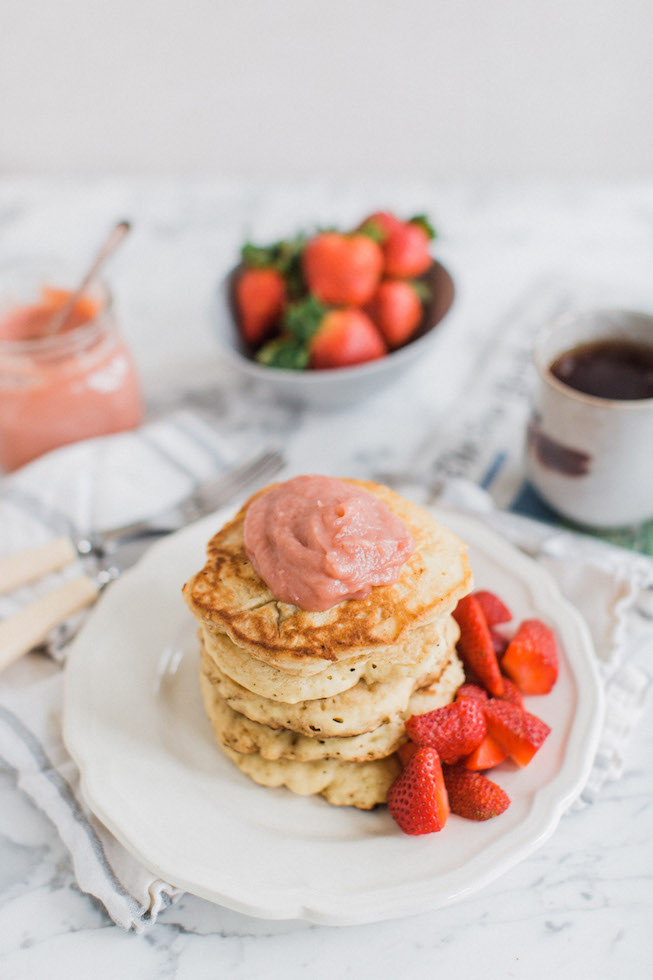 what you do…
Begin by making the curd. This can be made several hours before, or days in advance. Boil the rhubarb in water until the stems are soft and dissolved. Puree in the food processor until smooth, then mix in the lemon juice and a drop of red food colouring if your rhubarb is pale.
Whisk the eggs and sugar together.
Combine the egg mix and the rhubarb in a saucepan and heat on low for 10 minutes, stirring constantly until it thickens.
Remove from the heat, and stir in the butter cubes.
Pour the warm curd into a sealer jar, chill completely (approx. 3 hours).
To make the pancakes, begin my mixing the flour, sugar, salt, and baking powder.
Whisk the egg, milk, vanilla, and melted butter together (making sure the butter is not hot).
Gently fold the wet and dry ingredients together, do not mix more than necessary or you will deflate the batter. Let the batter stand for 10 minutes, this will increase the fluffiness of the pancakes.
Heat some more butter in a cast iron pan. When the butter is hot, spoon about 1⁄4 cup of the batter into the pan for each pancake, cook- ing on one side until bubbles form on the surface, then flipping and cooking until golden brown. Remember, the first pancake doesn't al- ways turn out!
Serve the pancakes warm with a dollop of rhubarb curd on top. Garnish with chopped fresh strawberries.