Words & Photos  | Heather Goldsworthy
Autumn on our Escarpment is a magical time punctuated with the tastes and smells of all things apple… warm cider on a crisp fall evening, the sweet aroma of home-baked pies and crumbles, the satisfying crunch of biting into a deliciously cool royal gala freshly picked from the tree… and let's not forget the most refreshing of all the apple products—hard cider.
Craft cider is truly an expression of a region's bounty and with our collection of committed, knowledgeable orchardists and innovative, passionate cider-makers, we are establishing ourselves as a premier cider producing region.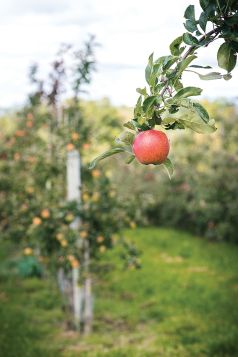 This area boasts an impressive nine brands of hard cider, including four new-to-market in the past 18 months and one more breaking ground as we go to print. Many are already award winners. Coffin Ridge Cider, Thornbury Village Craft Cider, and Beaver Valley Cider all brought home medals from this year's GlintCap International Cider Competition, as did newcomer The Great Canadian Cider Company. Something exciting is happening in our neck of the woods and the story behind our local cider culture is as complex and nuanced as the beverages we sip.
Fermented cider was the first alcoholic beverage produced in Canada before multiple factors led to cider-making all but disappearing in the early 1900's. Only in the past few years has the demand for cider seen a resurgence worldwide and Ontario's cider industry is steadily growing with 230 producers supplying fruit to 43 cider producers, 28 of which are considered craft cider producers.
While ciders share the shelves with, and are consumed like beer, the process and brewing technique is more in line with winemaking. As with wine, cider begins with premium fruit, carefully pressed and cold fermented to preserve and enhance the varietal characteristics. Each cider will be a unique expression of the maker's stylistic choices; from the blend of apples chosen for preferred levels of acidity and sugars to fermentation duration, aging process and incorporation of additional fruit or flavours.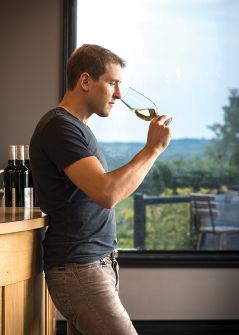 Long before the public's thirst for cider was rekindled, cider-makers were recognizing the potential of this area. Our growing region is situated beside a large, deep body of water which helps moderate temperatures while the slope of the Escarpment creates a natural protective barrier keeping winds in the valley. Cooler winds in the spring delay budding and warm autumn winds extend the growing season creating prime conditions for producing a healthy, abundant harvest. What started with a few trees on individual farms in 1837 quickly blossomed into a thriving industry and the area is now the most densely planted apple growing region in the province, producing roughly 25% of Ontario's apple crop. With 18 varieties of culinary apples grown locally and some heritage North American and European cider varieties being imported, the opportunity for cider-makers to experiment and innovate is endless and consumers are discovering the resulting quality and diversity in the ciders produced here.
Having spent the past month chatting with passionate and talented orchardists and cider-makers I could list the different techniques, styles and flavour profiles of each brand but the beauty of this area is that you can get out there and taste for yourself! Not only is the drive to Beaver Valley Cidery one of the best routes to enjoy the fall colours, the beautifully converted barn is a lovely spot to sample their ciders while learning about the heritage cider varieties they grow.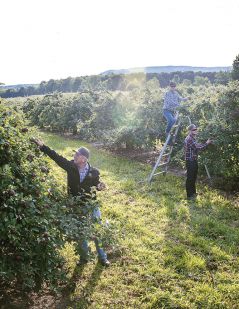 Not far from there, at Georgian Hills Vineyards you can experience a side-by-side comparison of ciders made in two very different styles: Georgian Hills' Premium Sparkling Dry Cider and the Ardiel Cider House, Big John Hopped or Ardiel Dry cider. Thriving industry and world-class cider Although Coffin Ridge Forbidden Dry and Hopped ciders are available at the liquor store, a trip to the winery's tasting bar is well worth it, in part because you may get the chance to talk to their cider maker Joel. That guy is a wealth of cider knowledge. Make sure to sign up for their newsletter too or you risk missing out on small batch releases (like their Maple Cider) which are only sold at the winery.
The LCBO now stocks Reinhart's Red Apple Light and Duxbury Cider Co. Sideroad Dry Cider but Duxbury's Heritage 1650 and hopped Tilted Barn ciders are a bit harder to get your hands on so keep your eyes open at the grocery store and on local menus.
Thornbury Cider may be one of the most recognized and widely available local beverages but to try one of their specialty ciders like Spiced Apple or Cranberry Apple you'll need to stop in to their newly opened tasting room at the Thornbury Village Cider House. If you missed Duntroon Cyder House at the Collingwood and Creemore Farmers' Markets, you can visit them at the farm or find their ciders on the menu at Azzurra and Gibson&Co.
Canada's first organic cider, the Great Canadian Cider Company is set to hit shelves any day, but in the meantime stop in to Northwinds Brewhouse to try a glass. Also, keep your eyes peeled for Spy Cidery and Distillery as they're expected to launch their flagship cider by Spring 2018 and the longer term plan includes distilling a calvados-style apple brandy.
As exciting and inspiring as our local ciders is the spirit of collaboration and support amongst the makers and orchardists. Together they are working to improve access and challenge the perception of cider. These innovative individuals are developing and growing the local cider industry while adding value to the existing apple and agritourism industries. To put it simply, they are putting this part of the Niagara Escarpment on the map as a world-class cider producing region. It's just the beginning of our cider story and I, for one, am excited to taste what comes next. |E|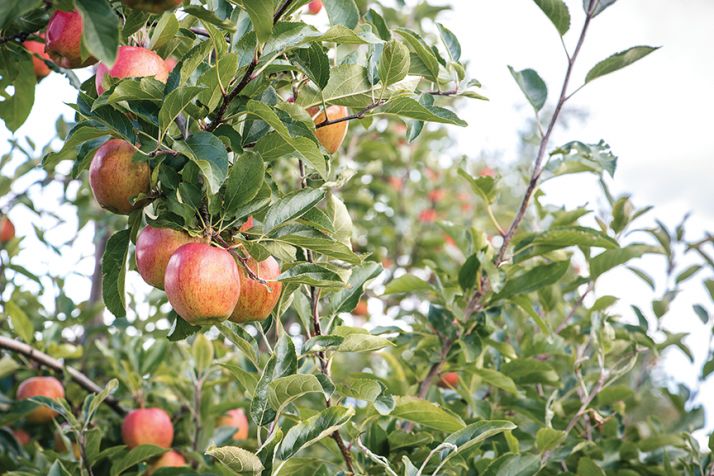 Heather Goldsworthy is a freelance photographer based in Georgian Bay. Her work explores our food culture and systems. Imageobscura.com