Words by Cara Williams – Photos by Clay Dolan
From a quick drink to an unforgettable meal, no visit to Blue Mountain Resort is complete without a quintessential mountaintop dining experience at Summitview Pavilion.
To enjoy this ultimate epicurean escape, take the open-air gondola from Blue Mountain Village up to the summit of the Escarpment and enjoy the most talked about al fresco dining experience. Reminiscent of a scaled down Sydney Opera House, it's a restaurant with a view, but not just any view—arguably the best view this side of the rockies! The menu features a curated selection of BBQ dishes, shareables and casual fare, as well as a charcuterie board that pairs perfectly with sangria and a stunning Georgian Bay sunset.
A truly magical experience, this sheltered patio with its incredible 180-degree view of Collingwood and Nottawasaga Bay garnered immediate attention on social networks during its inaugural season last summer. "As the seasons change we are excited to see the return of our Summitview Pavilion at Blue Mountain," said James Henry, Vice President of Hospitality for Blue Mountain Resort. "This impressive Saddlespan structure is over 30 feet tall at its peak and encompasses 5,000 square feet under its cover. Its open archway, overhanging the top of our Tranquility Ski Trail, offers unparalleled vistas. Our mountaintop dining experiences have previously been exclusively offered to weddings and groups—the Summitview Pavilion gives us a chance to share this unique experience. Expanded hours and a refreshed menu offering will greet resort guests when we open in late May."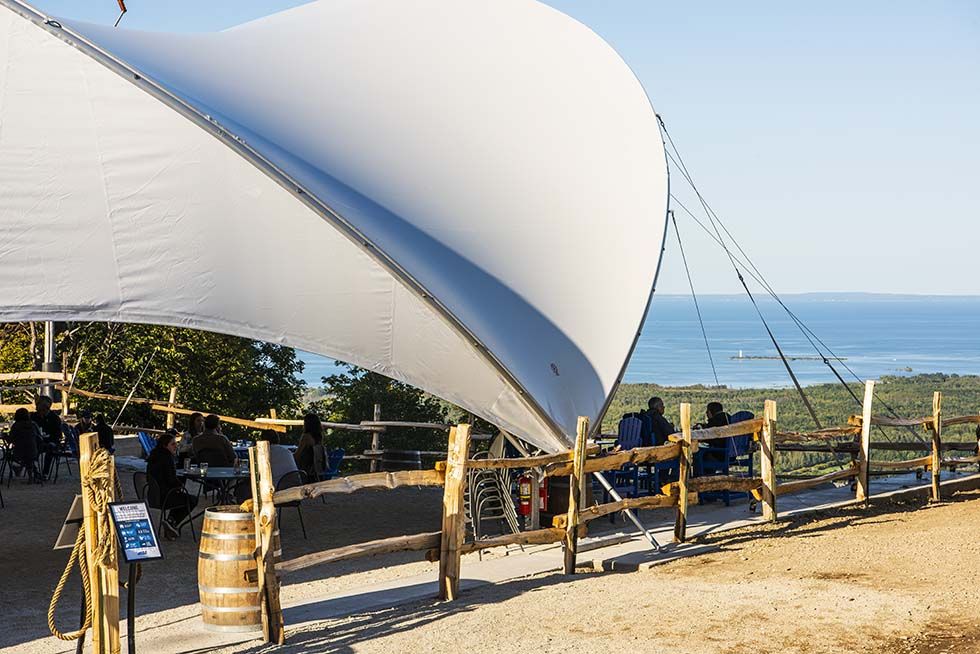 Accessible by gondola or by car, my preferred route to Summitview Pavilion is a leisurely trek up from the Village via the Grind or Village Way hiking trails (burgers and draft beer simply taste better if you've earned it). And don't worry about waddling back down the mountain after a full meal: 21/22 Season Passholders including 5×7, Ikon Pass, Explore or Play All Day Pass have inclusive access to the Gondola.
Naturally Summitview Pavilion is very popular, and guests are strongly encouraged to plan their visit in advance. COVID protocols include mandatory reservations, mask wearing unless seated at your table and physical distancing. This spring, why not let someone else tend to the cooking while you sit back, and appreciate the incredible unobstructed views of Georgian Bay, the Nottawasaga Lighthouse and the glow of Collingwood and beyond.