Into Plein Air
Words by Kate MacLennan, Photos by Gary McGuffin 
More than a century ago, several Canadian artists found themselves at home on the precipice of wilderness and history at the foot of the Montreal River along the shores of Lake Superior. Their hearts burdened with the horrors witnessed in WWI and the loss of their close friend and fellow painter, Tom Thomson, they'd arrived via the newly constructed Algoma Central Railway, paints and brushes in tow. There, the ancient rock, the trees, river and lakes, and a box car where they cooked and slept became home for this critical period. The men found both the solitude and camaraderie they sought to kindle renewal within themselves—not to mention some of Canada's most notable and recognized artwork, to date. Upon returning to Toronto these artists formed the Group of Seven.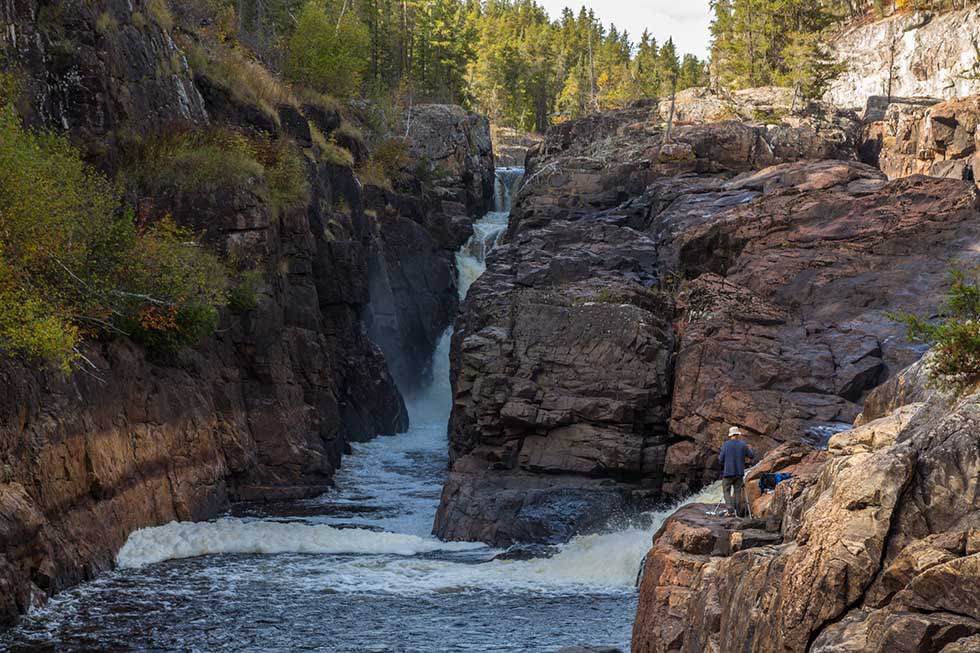 The Montreal River still tumbles into the Great Lake, as alluring today as it was in 1918. Above it stretches an imposing yet enchanting 800-foot wall of rock famously captured in The Solemn Land, a piece by Group founding member J.E.H. MacDonald, that has since taken its place in Canada's art history.
Last October, guided by modern day explorer and conservation photographer Gary McGuffin, a group of seven Collingwood-area artists visited several of the Group's original painting sites along the river, including Solemn Land. Their goal from dusk until dawn was to capture the same vistas as the Group, using their same method: plein air sketches, poetic tributes to the landscape as witnessed in nature, in real time.

"It was just a freak coincidence we ended up with seven artists on the trip and, actually, we call ourselves eight, because Gary is part of the group and his artistic eye was key," says James Aitken, the artist who spearheaded the trip.
Aitken had tracked McGuffin down through the Sault Ste. Marie tourism board after seeing the documentary Painted Landscapes, a film featuring McGuffin and his wife, Joanie, that weaves history with a modern-day adventure to walk in the Group of Seven's footsteps. "Gary said, 'Wow, James, I've been waiting for an email like this to come through for nine years. We've gotta do it.'"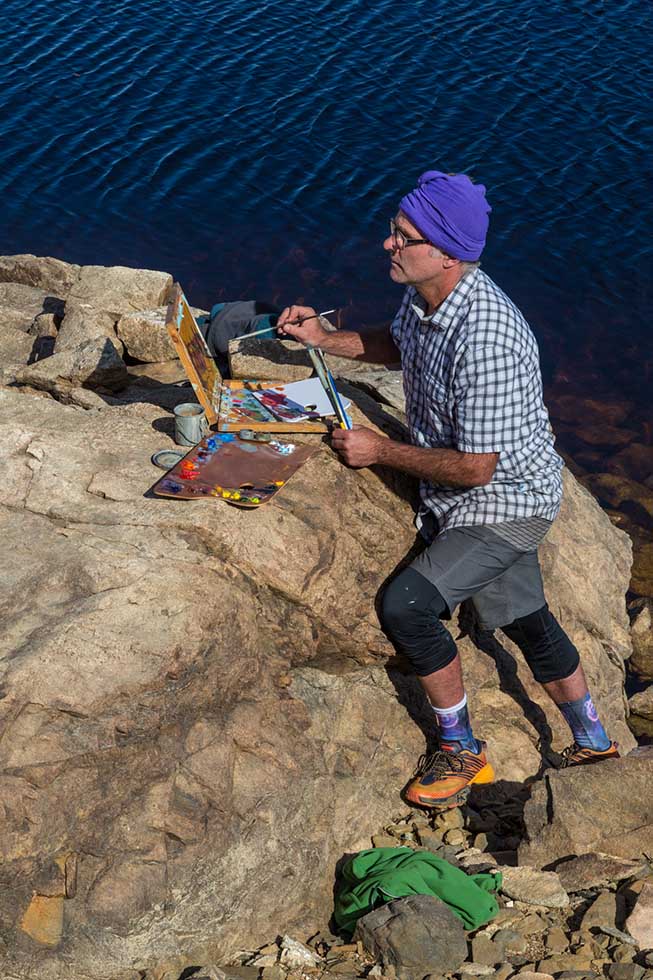 Like J.E.H MacDonald before him, first Andrew Peycha ventured north to get an understanding of how the trip would play out. Then, after a few Covid-related start-stops, Aitken and Peycha, together with Peter Adams, Mark Berens, Jonathan Houghton, Paul Nabuurs and Peter Taylor set forth from Southern Georgian Bay to the Soo. From there, they took a long, bumpy bush road and a boat ride to their home base at the McGuffin's Four-Way Lodge, the perfect access point to several sites where MacDonald and Lawren Harris had sat.
"It's a pretty cool feeling to be sitting in these paintings you've been looking at since you were a kid," says Berens.

"Two days into our trip they got the Algoma Canyon Tour Train running again," adds Aitken. "So, you'd be sitting there on a cliff on the train line, painting, hear the train coming, and then see people waving furiously through the windows at us. You can imagine them on the train saying, 'Oh, look! There's a painter right there, plein air painting!' It felt like they were a safari, and we were bringing it to life for them," he says, laughing.

Each painter on the trip has a distinct approach, Aitken says, but working together allowed them to inspire one another, to have conversations about the work, learn from one another, and share the challenges of painting outdoors. "We definitely got frustrated at times. We burned a couple paintings on the last night. I could not paint this one tree and I was so frustrated. And it's daunting because there's so much out there to paint, it's like, how do I even start here?"
A gamut of emotions became a theme throughout the experience. "I've started saying that the Group of Seven was a therapy group for middle aged men," says Berens. "For us, the moments we had in the morning over breakfast and at night by the campfire, and when we'd cross each other's paths during the day, those are the memories for me more than the paintings we create. It was an adventure and going out and painting things, but the bonding was almost more important than the art."
Aitken says, "It adds a lot of motivation to paint with other artists. You become part of a collective and get different ideas from each other and that makes it really exciting." Indeed, the results are also vastly different than if one were to work alone—what gets painted and how it's depicted often depends on who they were sketching with.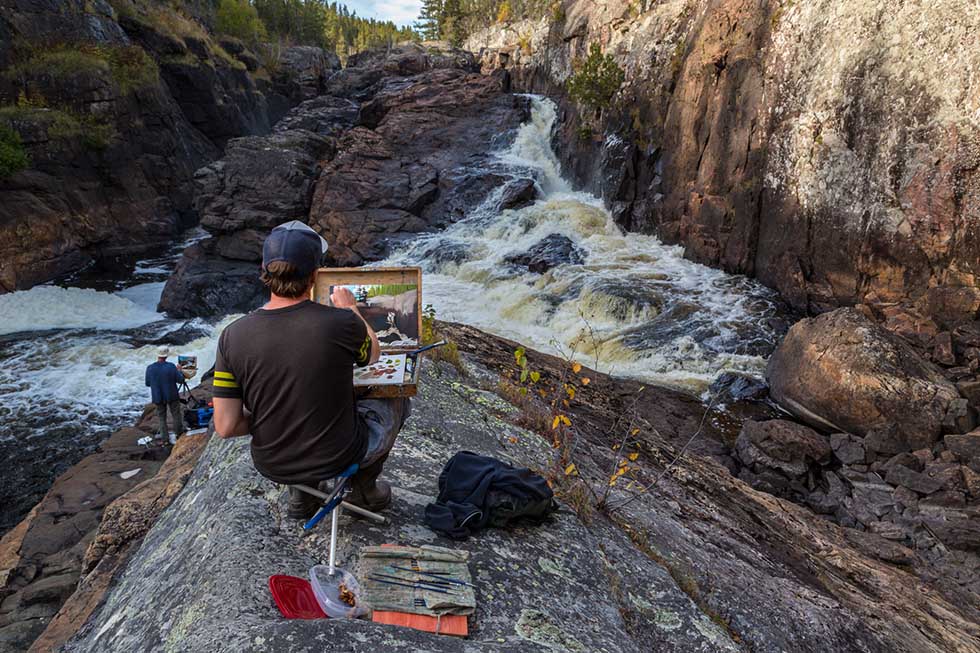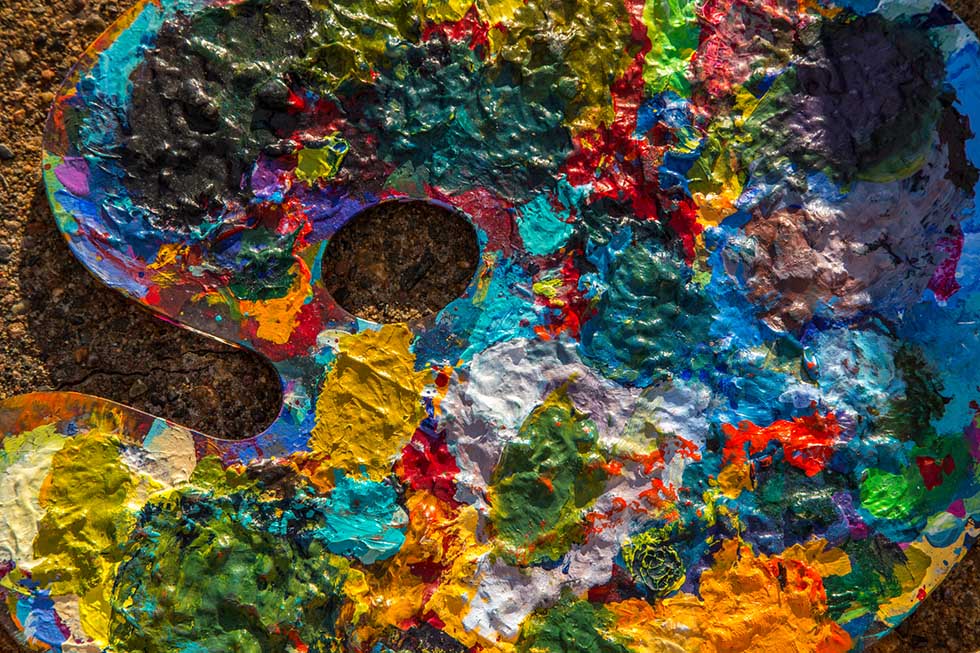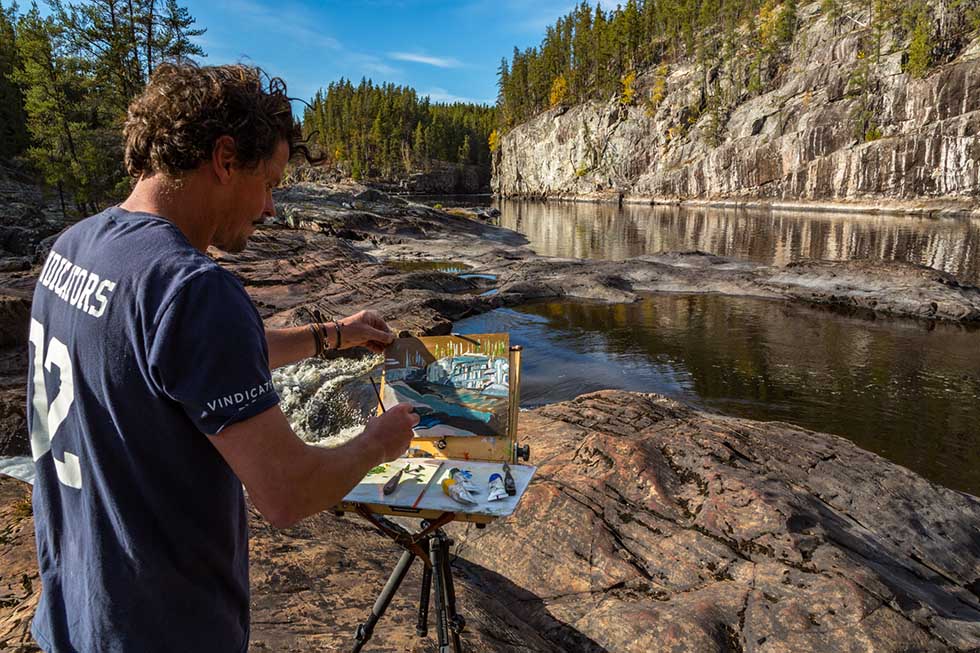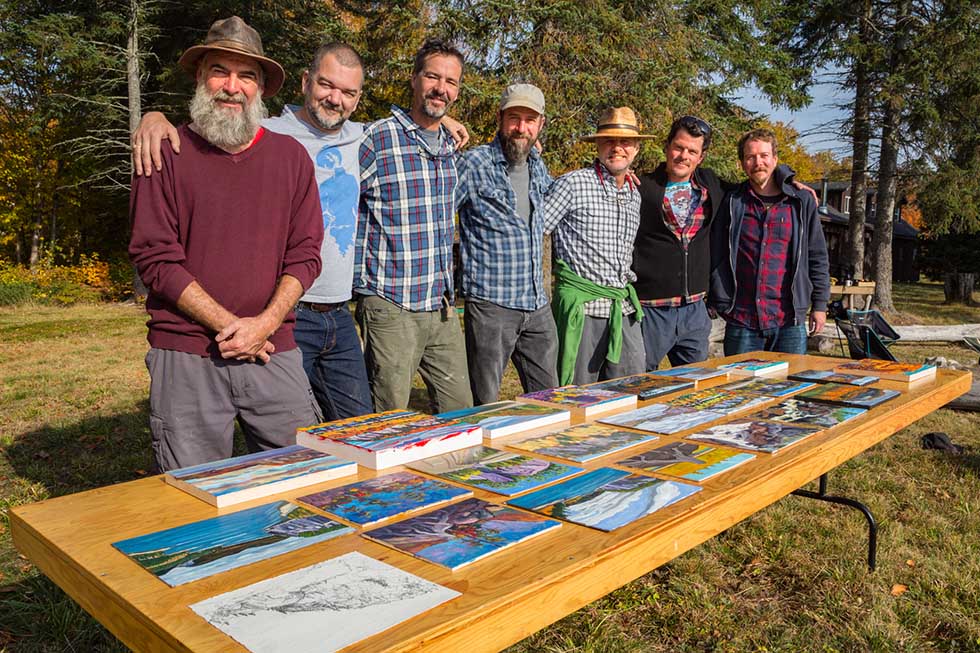 Alex Blair is Director of the Lawren S. Harris Inventory Project, an initiative to assemble a publicly accessible catalogue of all known works of Harris. In a video for Heffel Fine Art Auction House, he explains that what brought the Group of Seven together was a drive to capture the uniqueness of the Canadian landscape. "They wanted to depict this wildness that they found there, this energy and vitality, and do it in a way that was novel and different from what they'd seen elsewhere and what they'd seen done before."
Essentially, the goal of the artists on last year's trip is the same as the Group's: they want to bring visibility to these landscapes—in Aitken's words, to "make them appear." Back in the studio, each artist chose several of their sketches to develop onto large canvasses—novels, by comparison, that tell the same story as the sketch after the artist has had opportunity to ruminate upon it and develop it more critically.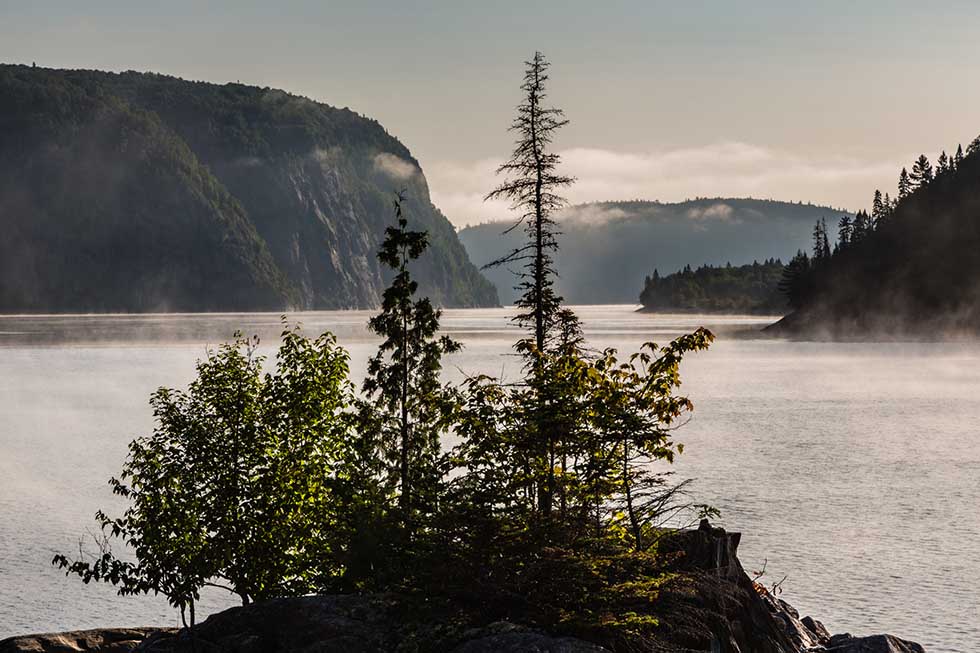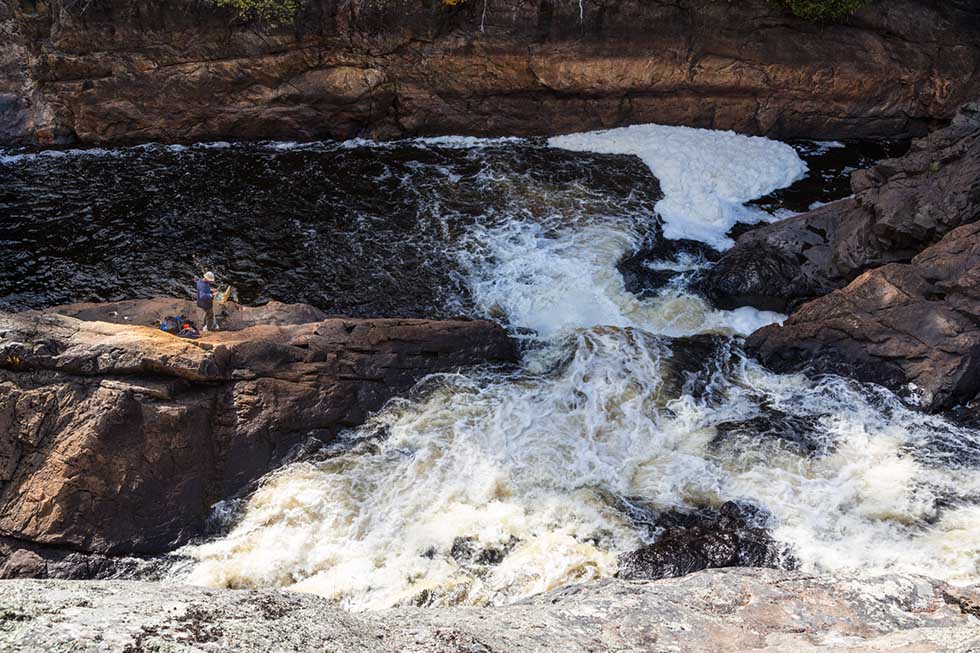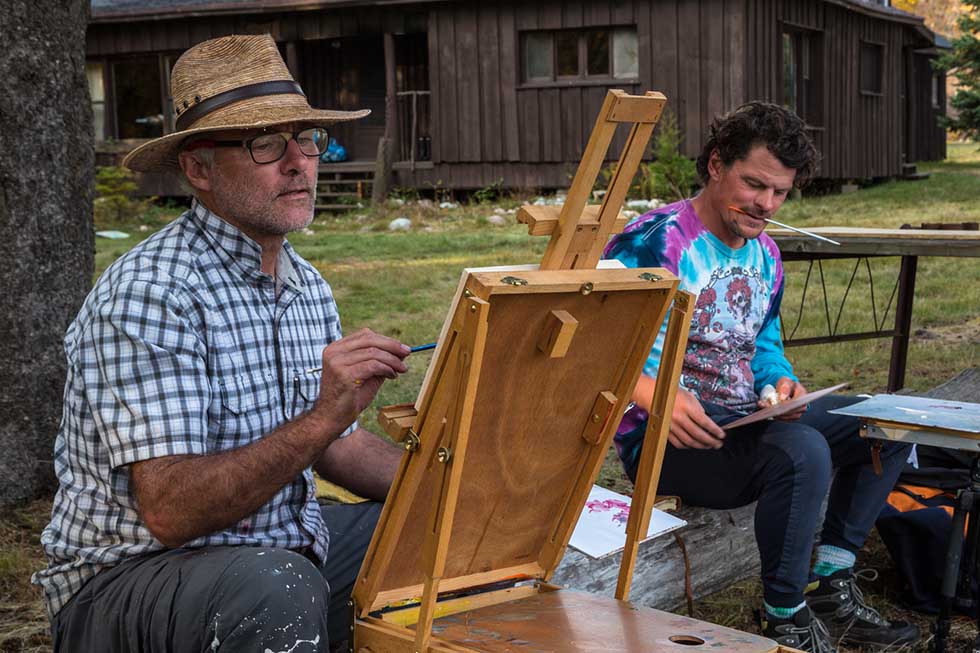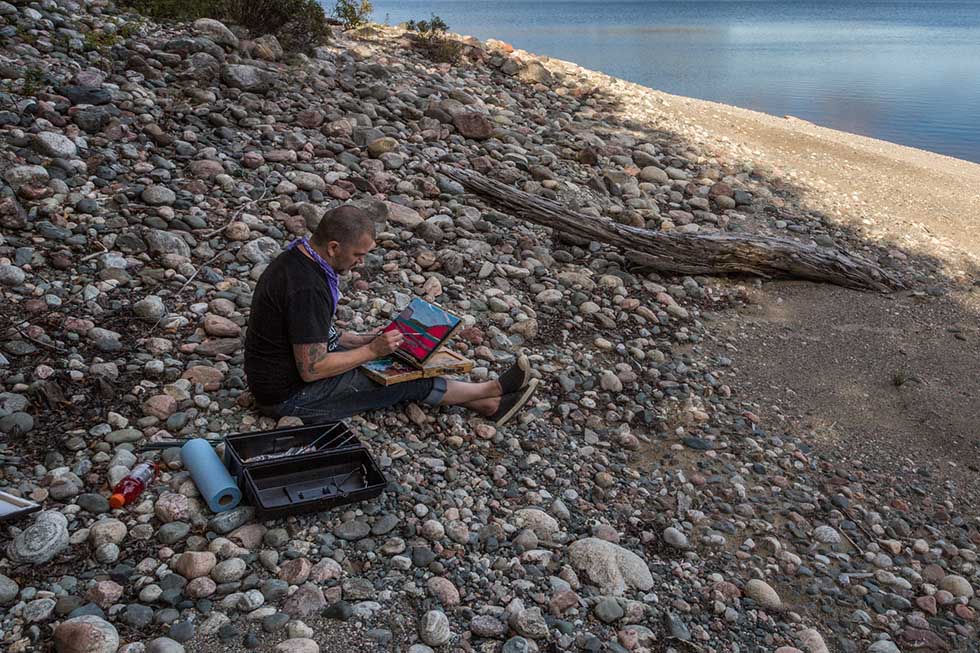 A mix of the plein air and large studio pieces from the October 2021 trip are being shown in the exhibition Solemn Land: Exploring Algoma's Montreal River at the recently renovated Nottawa General Store's Coventry Art Studio & Gallery (former home of Dovetail Interiors). The renovation also includes a 3,000-foot studio in the former coach house behind the store. The vision for the studio is a meeting place for local artists to gather and to paint—a sort of co-operative clubhouse for creative idea sharing.
The hope is that the exhibition will bring the Algoma District top-of-mind again for Canadians as a place of natural inspiration and one that is certainly worth of preservation. "Lake Superior is just stunning, and you truly understand why when you get there," says Aitken. "There's talk that this area should be a UNESCO World Heritage Site—and there certainly should be discussion about this because it's part of our cultural heritage, and because it's really beautiful. Solemn Land is a spot everyone should have access to."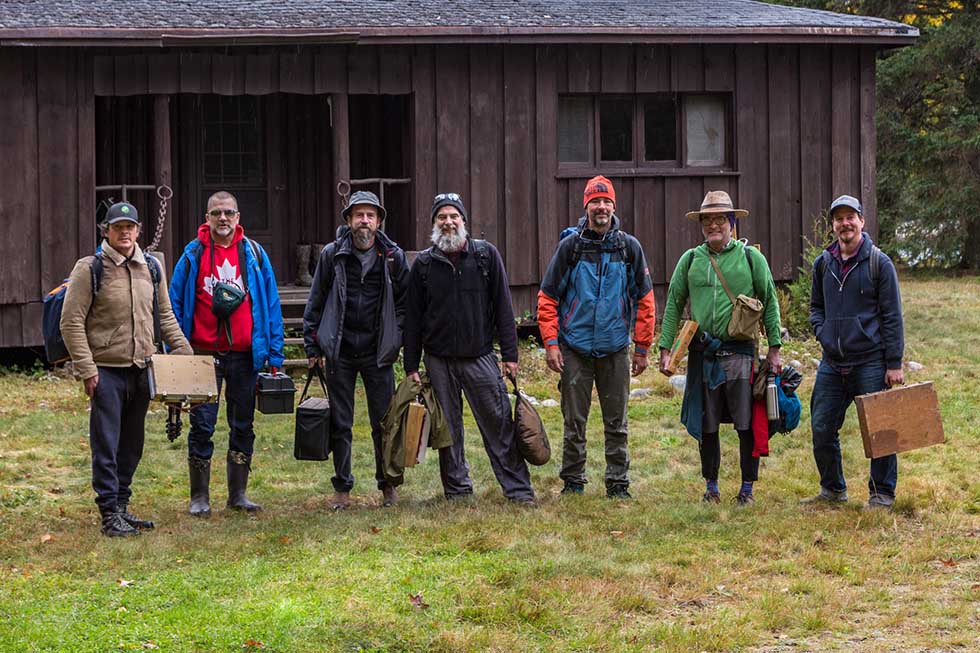 The Coventry Art Gallery & Studio Exhibition Solemn Land: Exploring Algoma's Montreal River runs June 17 – July 27, 2022.