Words by Gail Gallant, photography by John White
If you're like me, the social restrictions and relentless uncertainty of these pandemic times have left you feeling a shade numb. Thankfully, though, a really profound experience can still blast through those blahs. My breakthrough moment came last September while listening to a string quartet performing Haydn at an outdoor concert on Georgian Bay, at the SweetWater Music Festival. Isn't it amazing how a live musical performance can become so much more than music. At its very best, the magical combination of music, musicians and audience creates a life-affirming energy that is indescribable. On that late September evening, in spite of covid, or maybe because of it, this complex and exquisite expression of the human spirit in artistic pursuit suddenly felt overwhelming to me. The musicians' amazing humanity, their dedication to excellence, their love of creating and sharing beautiful music, stirred up so much gratitude that I was moved to tears.
Inspired by the enthusiastic reception of a solo concert by virtuoso violinist Mark Fewer, SweetWater Music Festival was founded in 2003. Under the artistic direction of Mark, and with the support of benefactors Keith and Jean Medley, SweetWater has grown steadily into one of the leading regional music festivals in the country. Throughout the third weekend in September, SweetWater draws on some of the best musicians from across Canada and around the world for a series of lively concerts, both formal and more intimate, at popular venues in and around Owen Sound and the Municipality of Meaford.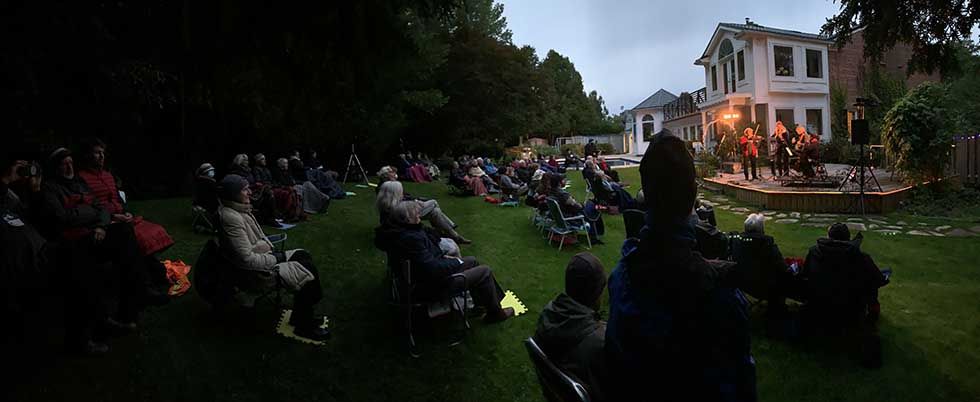 But there is more to the SweetWater Music Festival than the exceptional performances—SweetWater also provides community involvement, with mentoring for aspiring musicians throughout Grey/Bruce, workshops for musical students and teachers, and a celebration of skilfully-crafted musical instruments of local luthiers.
In 2019, Mark Fewer stepped down and SweetWater welcomed a new Artistic Director Edwin Huizinga. Standing six foot five inches tall, with flaming red hair and beard straight out of Middle-Earth, Edwin has a face so kind that it lights up any room. He is a founding member of the classical ensemble, ACRONYM, a member of a Juno award-winning rock band called The Wooden Sky and has an ongoing collaboration with Grammy award-winning folk guitarist William Coulter, under the name Fire and Grace. Edwin has also composed and performed an award-winning piece for Opera Atelier with world- renowned soprano Measha Brueggergosman and is commissioned to compose music for the National Arts Centre orchestra in Ottawa. He even performed at the State funeral of Senator John McCain.
Soon after Edwin accepted the SweetWater reins the pandemic hit—with gatherings no longer allowed, he managed to salvage live performances in creating the pared-down SweetWater Surreal. For four days in September 2020, musicians performed nearly a dozen socially distanced outdoor concerts; three in private gardens; one at the Coffin Ridge Winery; and the others in public spaces throughout Owen Sound and Meaford. "It was either going to be a surreal festival or a postponed festival," said Edwin. "In bringing people together and sharing music on a live stage, we were doing something that the world needed so badly."
SweetWater Surreal found a way to make magic while operating under a cloak of Covid restrictions. The musicians played brilliantly and with passion. Founding benefactor Keith Medley later declared, "It was one of the most wonderful SweetWater weekends ever." Since then, SweetWater Surreal has kept active through online mini- concerts and live-streamed interviews with musicians, and a stunning live jazz concert with Measha Brueggergosman, broadcasted from Owen Sound's Heartwood Hall.
Planning is well underway for the 2021 SweetWater Music Festival September 16-19. Those lifted spirits of last year's festival lingered long after, and this year, SweetWater promises to surpass itself once again.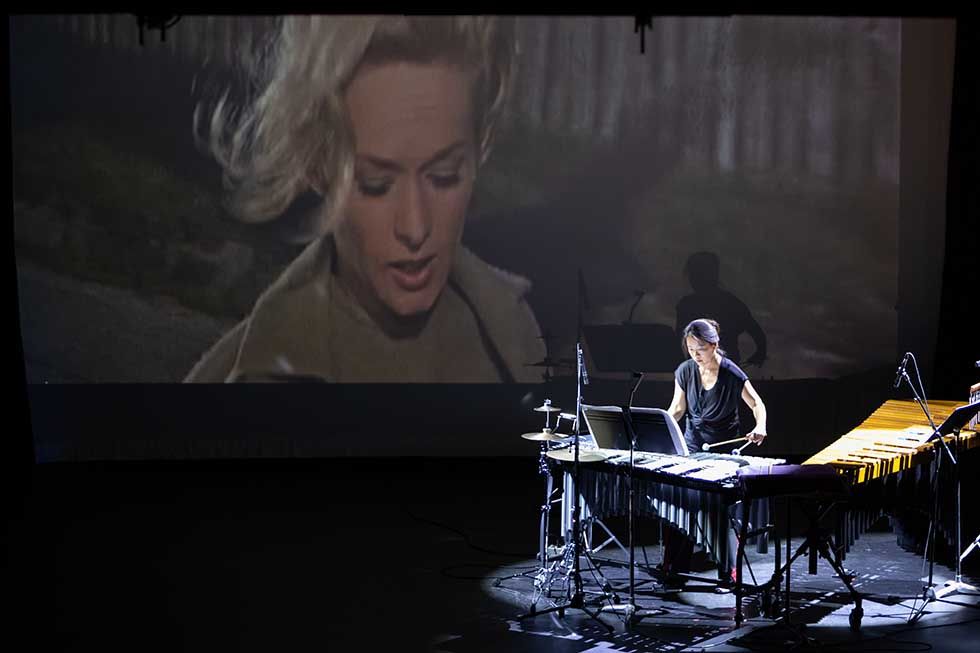 SWEETWATER 2021 KEEPING THE MUSIC ALIVE!
This year's cutting-edge musical experiences will be provided by a multi- talented group of performers including Philip Chiu, Keith Hamm, Julie Hereish, Tamar Ilana, Aaron Schewbel, Sheila Jaffe, Leanna Rutt, Patricia O'Callaghan, Tom Allen and many more.
Along with four featured concerts over four days, this year's edition will include a special preview concert, community concerts, and other musical experiences designed for the new normal (including music online).
Find out more about performers, programmes, and other special events during SweetWater 2021 at sweetwatermusicfestival.ca.