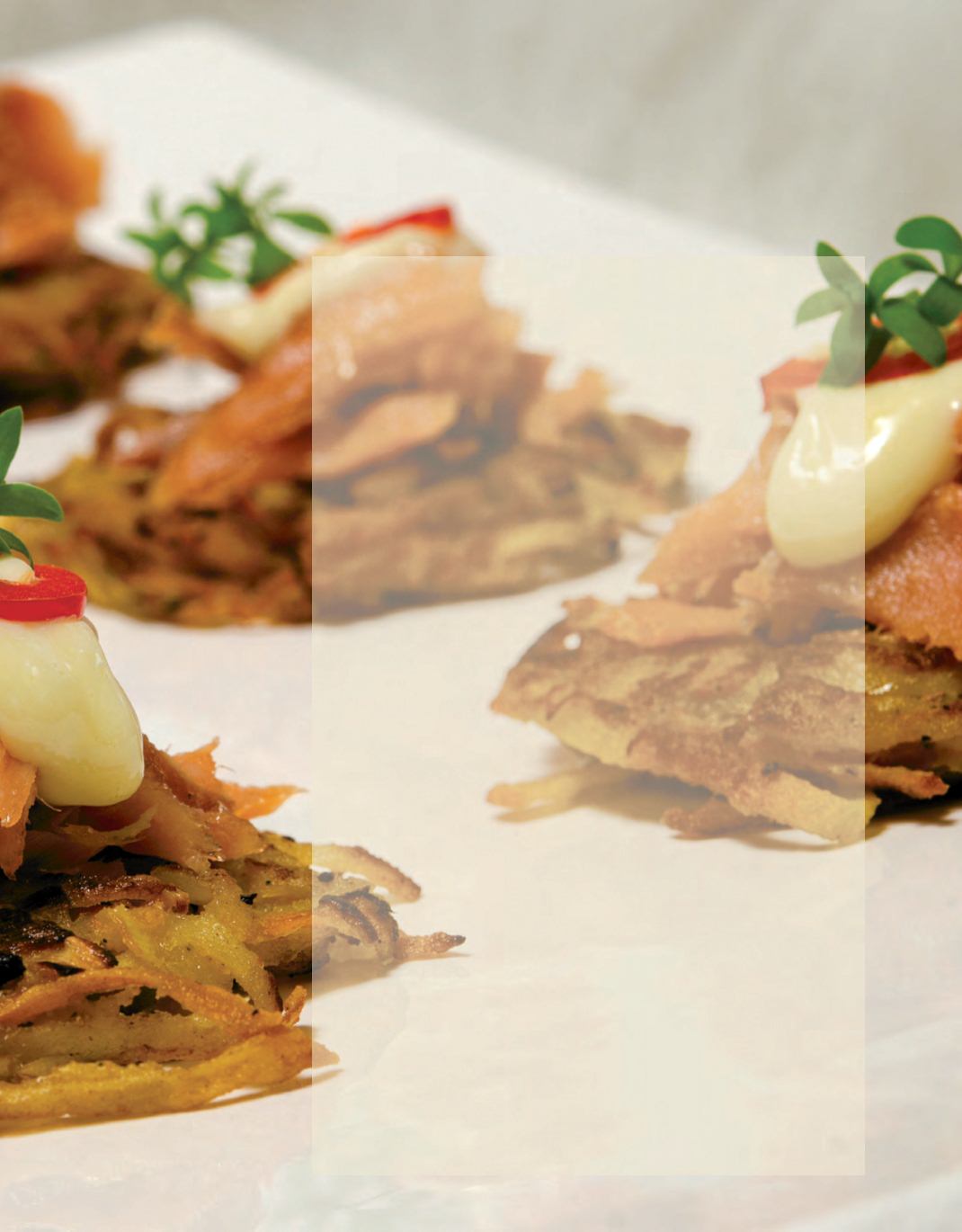 Sweet Potato and Leek Latke (100% gluten free)
One Medium Sweet Potato
One Large Red Skinned Potato
1/2 Leek
2 Large Eggs
1/3 Cup Rice Flour
1/4 Cup Coconut Oil
Salt and Pepper To Taste (1/2 Tbsp. Each, Recommended)
GARNISH -
1 Side (Black Angus Meats) Smoked Rainbow Trout
1/3 Cup Mayo
1 Tbsp. Wasabi Paste
Fresh Flax Sprouts (Courtesy of Roy'L Acres Farm. Available at Culinary Designs)
1/2 Red Jalapeno (Also From Our Friends At Roy'L Acres)
Start by peeling your sweet potato, and then washing your red potato (keep the skin
Grate both potatoes on a cheese grater, or a mandolin with appropriate settings. Place
grated potato in a mixing bowl. (Do Not Rinse.)
Cut about 4 inches off the 'white' of a leek, then quarter lengthwise. Chop and soak in
cold water. (Dirt will fall to bottom, while leeks will float on surface. Carefully scoop out
leeks without stirring the dirt on the bottom on container, then add to potato).
Crack in 2 whole large eggs.
Add Rice Flour, Salt, Pepper, then mix (before mixing, start heating a medium skillet
with 1/4 C. coconut oil to med-high heat).
Divide mixture into 1 ounce portions (to be flattened lightly with a spoon when set in
Don't be a hero, cook as many latkes, as you feel comfortable with at one time (until
golden brown and then flip until golden brown... this can be a dangerous step).
Place on baking sheet with parchment paper and bake at 400° for 7-10 mins (de-
GARNISH - (while Latkes are baking)
Whisk wasabi paste into mayo, until all clumps are gone.
Open trout, remove skin, and flake (with fork, or fingers.. it naturally flakes with minimal
Slice your jalapenos very thinly, and with a sharp knife. (Dull knives cause the pepper
to "spray"... afterwards; wash hands, remove cutting board, and knife).
Cut fresh herbs using scissors to garnish the final product.
FINAL STEPS
Place 1 pinch of trout on top of latke.
Add a small dollop of wasabi mayo, and then one slice of jalapeno.
Place on serving platter and sprinkle with fresh herbs. Enjoy!
|E|