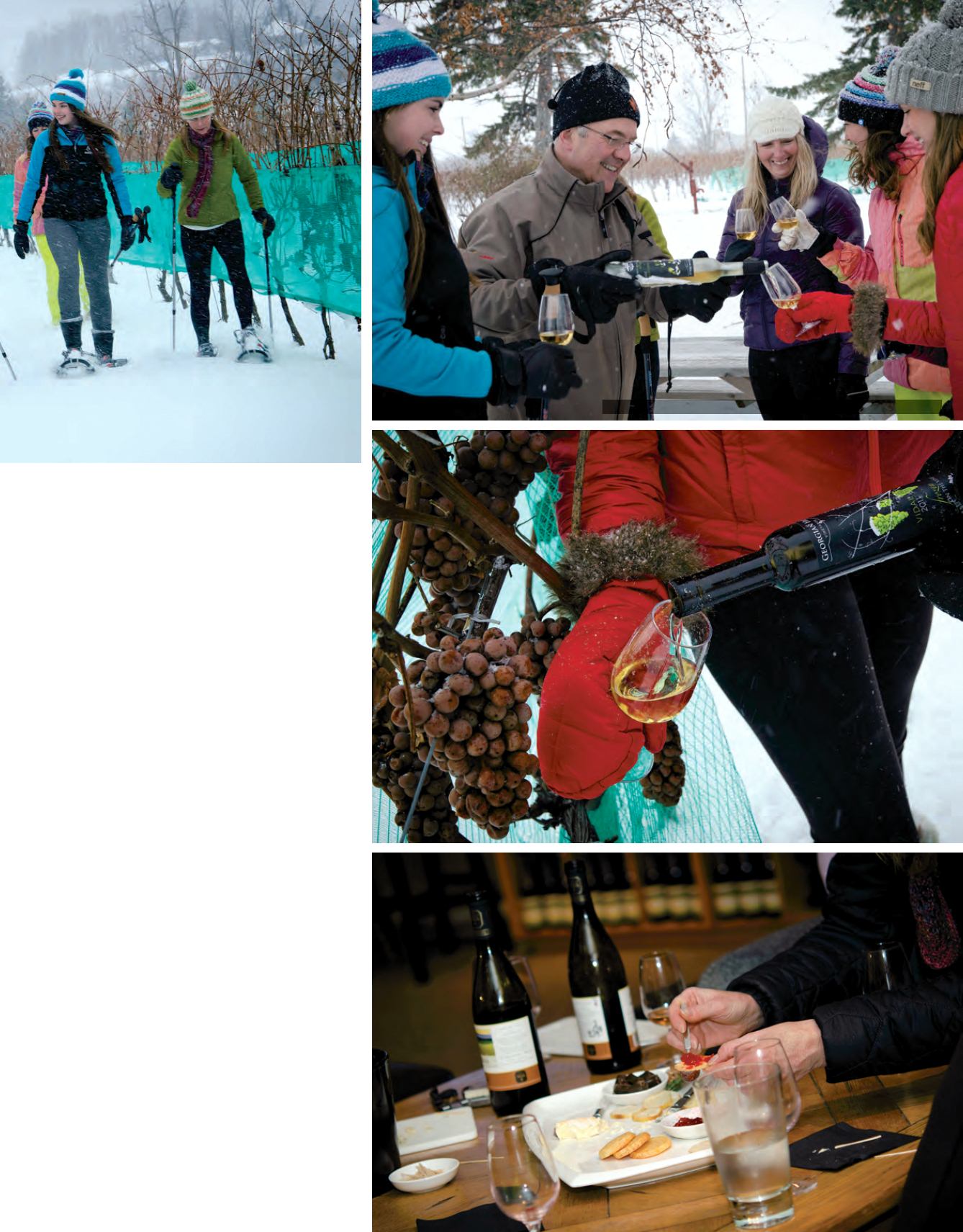 Our intimate group enjoyed a perfect winter after-
noon meandering through the vineyard canopy,
while we snow-shoed past ice-covered grapes, per-
fectly preserved—frozen on the vine. Afterwards, we
cozied up by the fireplace at Georgian Hills and
savoured four local wines paired with local cheeses
— truly a quintessential Escarpment experience!
The Georgian Hills Tasting Room, located up Grey
Rd. 2, above Thornbury near Victoria Corners, is the
perfect place to start (and finish) your snowshoe route.
With three levels of self-guided trails located on the
vineyard, there's a little something for every skill level.
Diehard enthusiasts looking for a more challenging
adventure, can book a picturesque guided snowshoe
tour in the Kolapore Uplands Wilderness Area or
along theworld-renowned Bruce Trail and then return
to the Vineyard to enjoy some wine tasting.
For the ultimate indulgence on a cold winter's day in
front of the fire try Georgian Hills newest experience,
'Sweet Indulgence'— for only $15 a person! Prepare
for the most decadent wine and food tastings – you
will sample three delicious sweet Winter Wines in-
cluding Frozen to the Core Ida Red Iced Cider,
Frozen to the Core Bartlett Iced Pear, and Frozen on
the Vine Vidal, paired with chocolate and cheese.
Please check in at thewinery to receive awell-marked
trail map and to sign awaiver. Self-guided snowshoe-
ing is available during winery hours. (You will need
to bring your own snowshoes as rentals are not avail-
able on-site.) Please enjoy responsibly—book a cab
or assign a designated driver.
For more information visit
|E|
CARA WILLIAMS PHOTOGRAPHY
Robert Ketchin treats us to Frozen to The core, Bartlett Iced Pear, sweet winter wine.