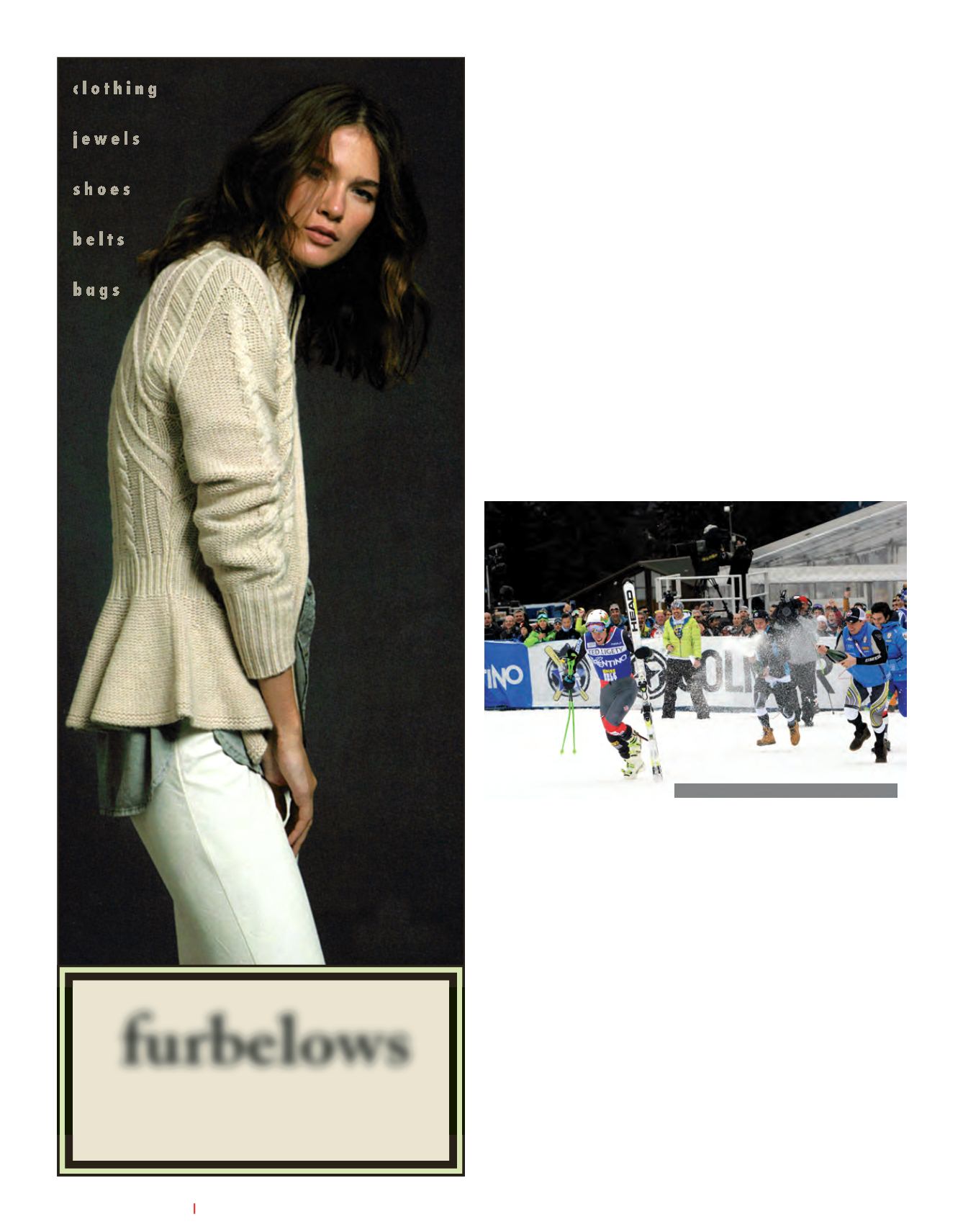 Escarpment Magazine Winter 2014
furbelows
bruce street s. thornbury
7
days
519.599.5422
The final round of five included Luca de Aliprandini, Ted Ligety, Aksel
Lund Svindal, Krystof Kryzl, and last year's winner Davide Simoncelli.
With one racer to go Ted Ligety had posted the fastest run of the round.
The Italian fans were at the edge of their proverbial seats waiting for the
final racer of the day, Luca de Aliprandini. As his skis crossed the finish,
all eyes were on the jumbotron looking for the final results to be re-
vealed. As the number "2" popped up beside de Aliprandini's name,
the field of athletes rushed the finish area with giant bottles of spumante,
soaking Ligety from helmet to boots. I remember walking back into the
Athlete Lounge moments later, and passing Aksel Lund Svindal. He
paused as he opened the door for me and said, "wow, smells like cham-
pagne out here –guess I missed it." To which I smartly replied, "ahum-
"Oh man, that's an awesome Christmas present, that's for sure," said
Ligety after the presentation of his
75,000 cheque. "You know, for
what the weather was the hill was awesome, it was a lot of fun to ski it. I
felt like especially in that final, I put together a pretty kickass run in order
to beat these guys. So I'm really happy I could do that."
To watch the 2013 Alpine Rockfest go to
Final Results:
1. TED LIGETY USA 36.546
2. LUCA DE ALIPRANDINI ITA 36.844
3. KRYSTOF KRYZL CZE 36.939
4. AKSEL LUND SVINDAL NOR 36.960
5. DAVIDE SIMONCELLI ITA 37.091
The next Alpine Rockfest at Paganella in Andalo, Trentino, Italy is scheduled for
December 23
rd
, 2014. VIP packages are available, inquire at
Alpine Rockfest is a Top Out Sports production, with thanks to sponsors Audi, Colmar,
Trentino and Andalo.
Former Alpine Rockfest Champions:
2009 - Cyprien Richard (FRA) - World Championship GS Silver Medalist (2011)
2011 - Ted Ligety (USA) - Olympic Gold Medalist (Torino 2006), GS, Super Combined, & Super
G World Champion (2013) & 4 World Cup GS Titles
2012 - Davide Simoncelli (ITA) - 2 x World Cup GS Winner
|E|
FEATURE
|
alpine rockfest
Ted Ligety runs from the spray in the winner's circle.