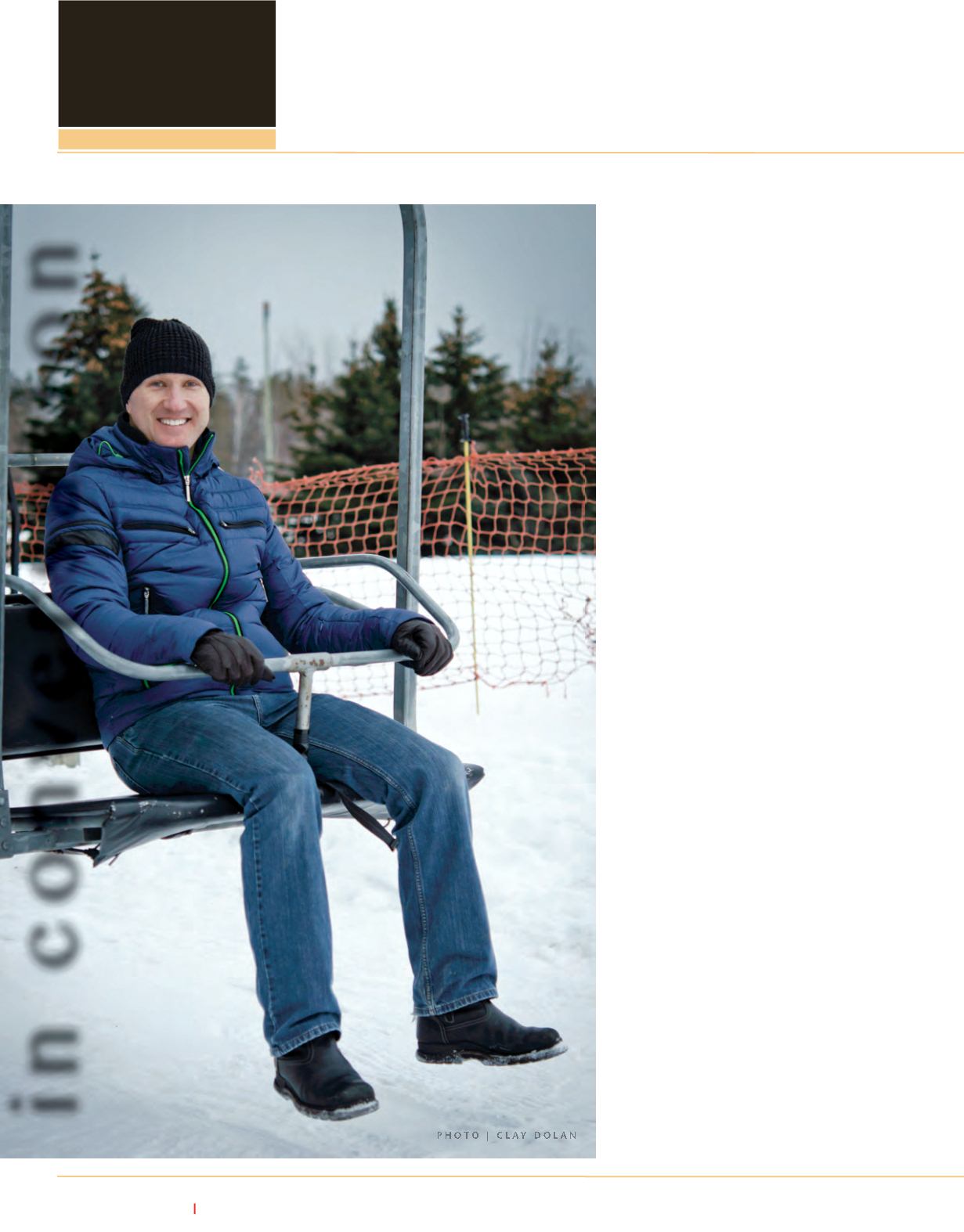 Escarpment Magazine Winter 2014
Escarpment:
You joined the Canadian Alpine Ski
Team in 1985 and within two seasons, you were
the 7
th
ranked downhill competitor in the world.
When you retired from the Team in 1999, you are
noted as saying, "I put my heart into ski racing for
14 years and have made so many great friends. I
have been able to experience the highs and some
of the lows of competing on the edge." What did
you mean by this?
Brian:
Athletes put their heart and souls into their
specific sport during their careers. Often we are
consumed by our goals and what we are trying to
ultimately accomplish and we aren't as focused on
the things that don't seem as important. When we
have time to reflect after we retire, we realize that
winning may not have been the only thing that
was important. Friends are for life and thankfully I
have a ton of great friends all over the world.
A member of the Canadian National Ski Team from 1985 to
1999, Brian Stemmle represented Canada at an astounding
four Olympic Winter Games. During his nearly 15 years of
international competition, Brian started in over 90 World Cup
races with 12 top-10 finishes, including three podiums; second
in Downhill at Garmisch, Germany (Feb. 2, 1996); third in
Downhill at Val Gardena, Italy (Dec. 12, 1987); third in
Super G at Furano, Japan (March 3, 1985). Not bad for a
kid who grew up ski racing at Georgian Peaks Ski Club.
Brian's 1989 crash at the Kitzbühel, Hahnenkamm downhill
—still on heavy rotation in sport catastrophe highlight reels—
almost ripped him in half when one of his skis caught in the
safety netting. He suffered massive internal injuries and after
numerous surgeries, Brian was kept in a chemical coma for
several days. It was unclear whether he'd ever walk again,
let alone ski. In an astounding feat of courage, he fought
back and won a gold medal at the Winter Pan American
Games in Las Leñas, Argentina a little over a year later.
Brian became an advocate of safety, influencing FIS (Fédéra-
tion Internationale de Ski) to amend their safety policies and
practices.
Brian continued to compete on the World Cup circuit until his
retirement in 1999, and was inducted into the Canadian Ski
Hall of Fame in 2002. Brian worked for CBC during the
Olympics in 2006 and was the lead commentator for Alpine
Skiing at the 2010 Winter Olympics in Vancouver/Whistler.
Currently he works as a television colour commentator for
Rogers Sportsnet. Escarpment
recently spoke with Brian
about his thoughts on the 2014 Olympic Winter Games, what
it was like growing up ski racing on the Escarpment, and
whether or not he will encourage his own children to follow
the same path.
®
BY CARA WILLIAMS