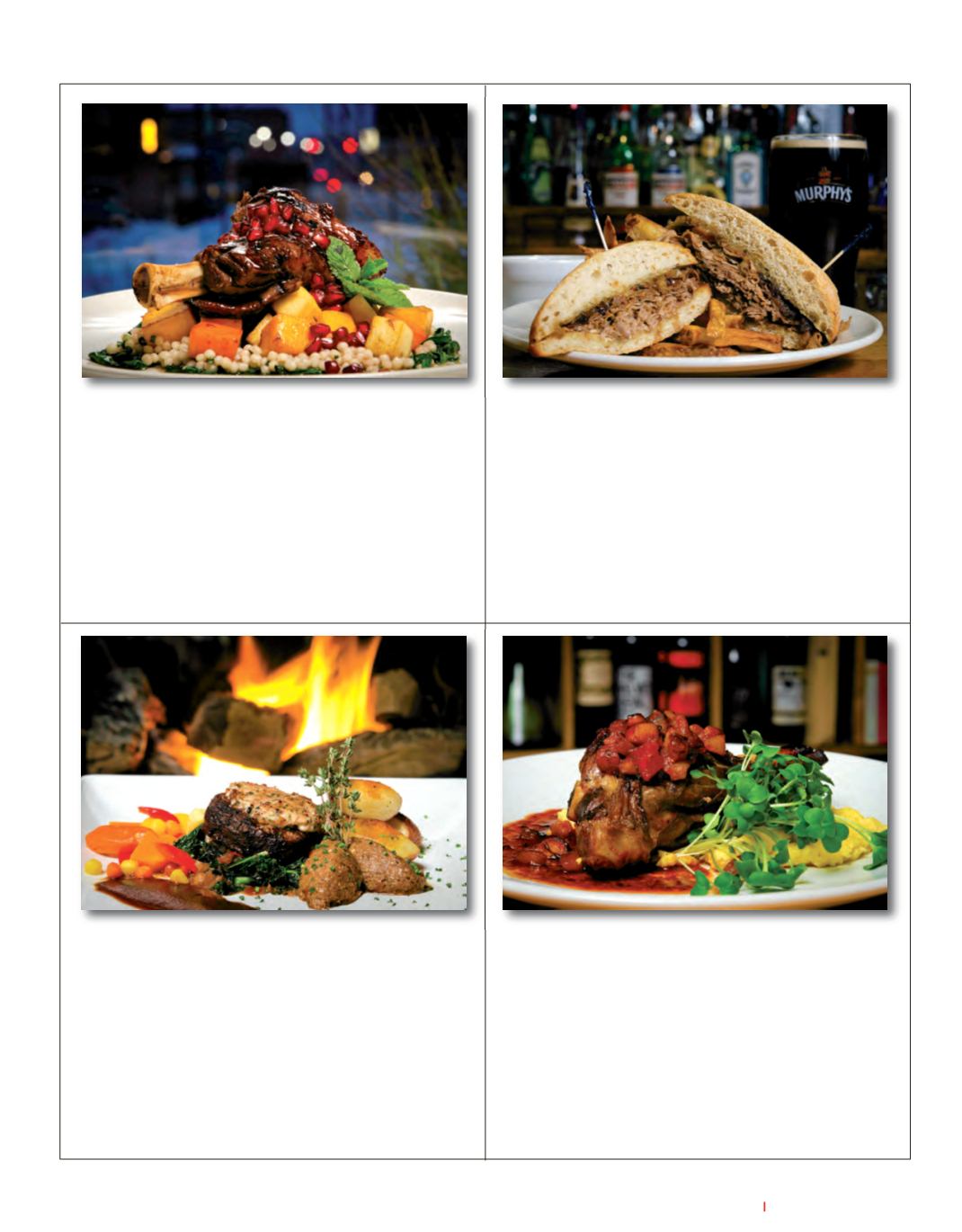 local flavour
Jozo's Bar -
the original long-time favourite hangout for après
ski refreshment. Sit back and enjoy the spirited atmospher fea-
turing great food and beverage specials, live entertainment &
promotions. New to Jozo's menu, is our in-house smoked beef
brisket sandwich featuring smoky beef, caramelized onions,
swiss cheese and horseradish mayo piled atop a roasted garlic
ciabatta bun ready to be dipped in our homemade jus! Après
Jozo's Bar - Blue Mountain Inn
705.443.5508
Bruce Wine Bar Kitchen
is far from your average wine bar and
is fast becoming the latest hot spot in town. This unique eatery
features two venues in one. Take out or dine in, and feast on tra-
ditional Neapolitan wood-fired pizzas, salads and sandwiches
downstairs in The Kitchen, or head upstairs to the Wine Bar for
an array of fine wines, spirits and craft beer, delectable shared
plates and live music on Friday nights.
Bruce Wine Bar - In the alley behind the TD Bank
Thornbury - 519.599.1112
Tremont Cafe -
Bistro style dining in a bright and intimate set-
ting. Locally sourced meats & produce add to the creative lunch
& dinner menus, fabulous french-style weekend brunch, tapas
night and an extensive wine list for pairing. The book room holds
a selection of eclectic titles and is a unique location for parties
of two to twenty. Wine tastings, book clubs, rehearsal dinners,
group business lunches, date nights, cocktails and gatherings
with friends. Catering available.
The Tremont Cafe - 705.293.6000
80 Simcoe St Collingwood
The GBC -
The private Georgian Bay Club is open for "Week-
endWinter Dining" on Friday and Saturday evenings thisWinter
for everyone to experience. Relax in casual yet elegant sur-
roundings in the Mountain Style Clubhouse and Founders'
Lounge and enjoy the sumptuous creations of Executive Chef Jeff
Anderson. Menus change weekly and the best in entertainment
is featured. Enjoy wine tasting evenings and themed dinner of-
ferings each month. Complimentary valet parking is available.
Reservations are required.
The Georgian Bay Club - 516689 7
th
Line . Blue Mtns
519.599.9949 ext 236