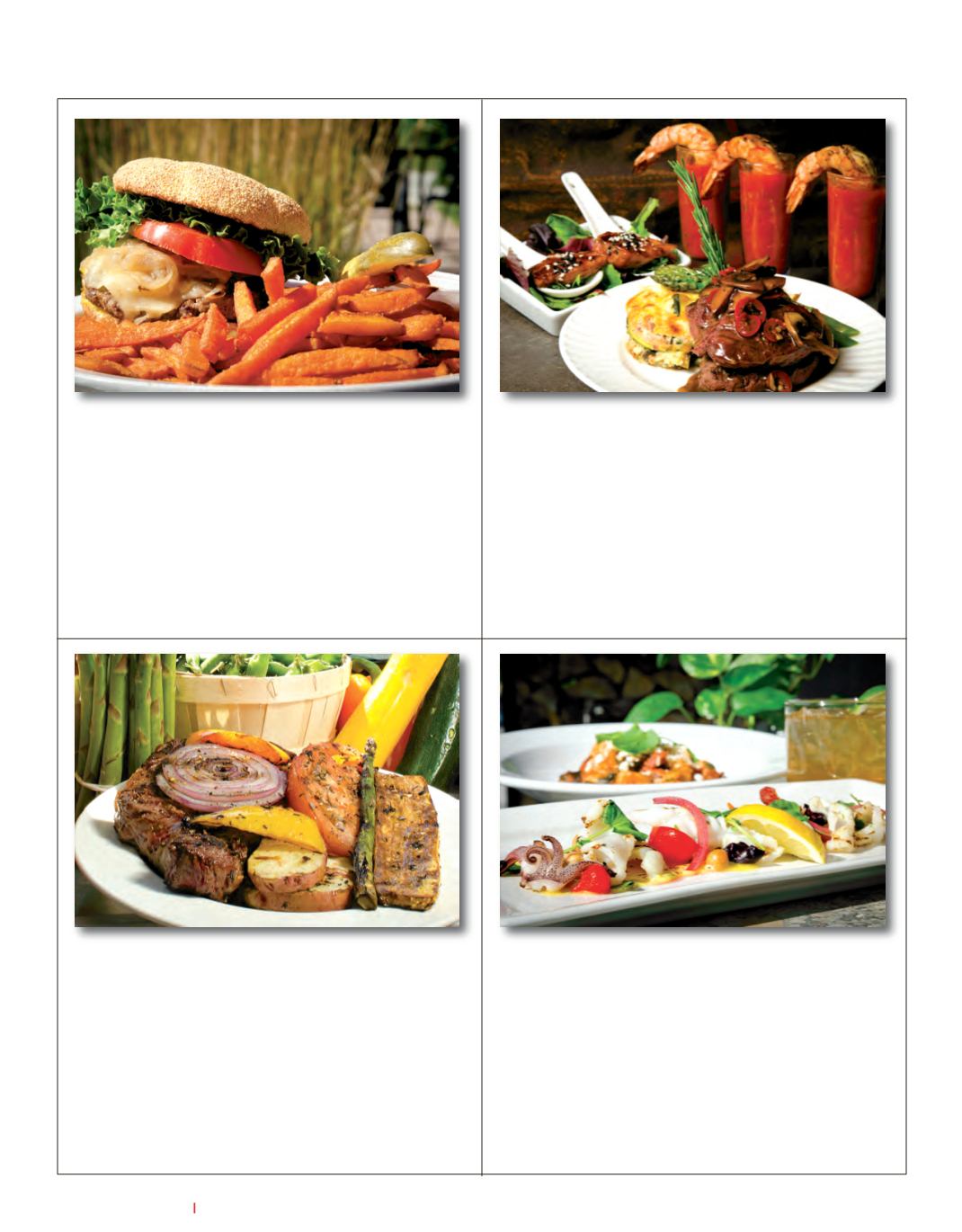 Escarpment Magazine Winter 2014
Culinary Designs -
Wonderful food, seamless service and indi-
vidualized personal meal planning. Fresh local gluten free and
healthy is our focus. Drop by our Thornbury storefront for a de-
lectable "one stop" meal shopping experience. Fully prepared
meals, sides, appetizers, desserts and premium grade meats,
seafood, poultry — marinated and ready for the grill or oven.
Freshly prepared just for you! Let us cater your special event!
Culinary Designs - 47A Bruce St. S. Thornbury
519.599.7900
|
winter dining guide
local flavour
Black Angus Fine Meats and Game -
fine meats such as dry-aged beef, local lamb and free-range
chicken. Our game meat selection includes bison, elk, kangaroo
and many other interesting and nutritious options. We pride our-
selves on our quality of meat, service, and product knowledge.
We encourage you to browse our website for interesting nutri-
tional facts, cooking tips and recipes for all of our meats. We be-
lieve that taste is limited only by imagination.
Black Angus Fine Meats - 519.599.2334
Highway 26w - Thornbury
Sisi Trattoria -
Sisi's has been a landmark in the village of
Thornbury for fifteen years. Quaint, cozy & inviting, our focus is
regional Italian cuisine. Our food starts with fresh, high-quality
and local ingredients prepared and served with passion, in an
energetic dining room where you can truly indulge in the art of
sharing. To pair with our food or to enjoy "only with you", we
offer a great VQA and international wine selection including
those from, our very own vineyard in Argentina, Solo Contigo!
Sisi Trattoria - 27 Bruce St. S. Thornbury
519.599.7769
The Orchid -
Owner Jennifer White invites you to enjoy All Day
Breakfast served every day along with bottomless coffee. Try
her delicious eggs benedict or steak and feta salad. For lunch,
be tempted by the daily specials menu, served daily from 11am
and Dinner, Friday & Saturday. Dine in air conditioned comfort
or on the cozy patio. "We feature great local ingredients such
as Kolapore Springs trout. Fast and friendly, family feasting.
Quality food at a fair price served with a smile." Free WiFi.
The Orchid - Highway 26 W - Thornbury
519.599.5944