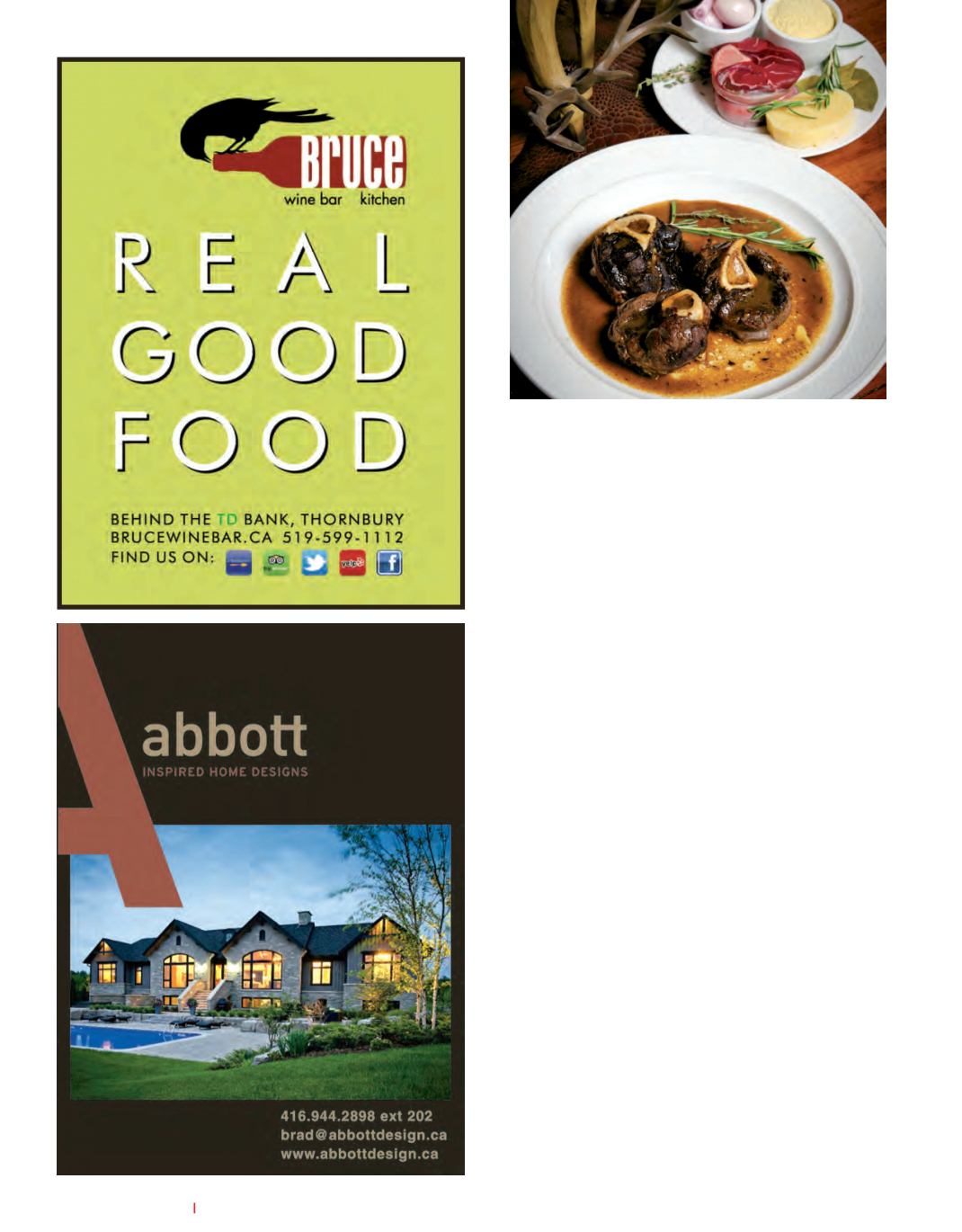 Escarpment Magazine Winter 2014
Method / Osso...
Season the Osso Bucco with salt and pepper and brown in a
pan on the stove, with Olive oil until you have a nice, dark
brown caramelized finish on all sides.
Remove venison from the pan and add whole shallots, sweat-
ing off for 3 to 4 minutes.
Set the shallots off to the side.
Using the same pan, add apple juice and deglaze the pan.
Put the venison stock and herbs into an oven-proof pot and
bring to a simmer at which point add the deglaze and the osso.
Cover and place in the oven at 120° c/ 250° f for 4 hours.
After 4 hours, add shallots and continue cooking for 30 more
Remove the osso buco and shallots carefully from the pan and
Put the pan on a burner on high and reduce until you achieve
a consistency that is rich and glossy.
Once done, place the shallots and the venison back into the
pot and keep it hot until you're ready to serve.
Method / Polenta...
In a pot, bring milk to a boil, and add the polenta, whisking
Cook until thickened. If it becomes too thick, simply add more
Add butter and mix until melted, then garnish with chopped
Another option... after cooking the Polenta, form it into a roll
using plastic wrap, let it cool and then slice into thin 1/4 inch
slices and fry in hot olive oil. Use the reduction as glaze upon
Notes...
Feel free to add any root vegetables you prefer to ex-
pand the meal/recipe. Just add them into the pot approximately
two hours before your finish time.
Suggested Wine is always a red, and preferably a Shiraz.
|E|