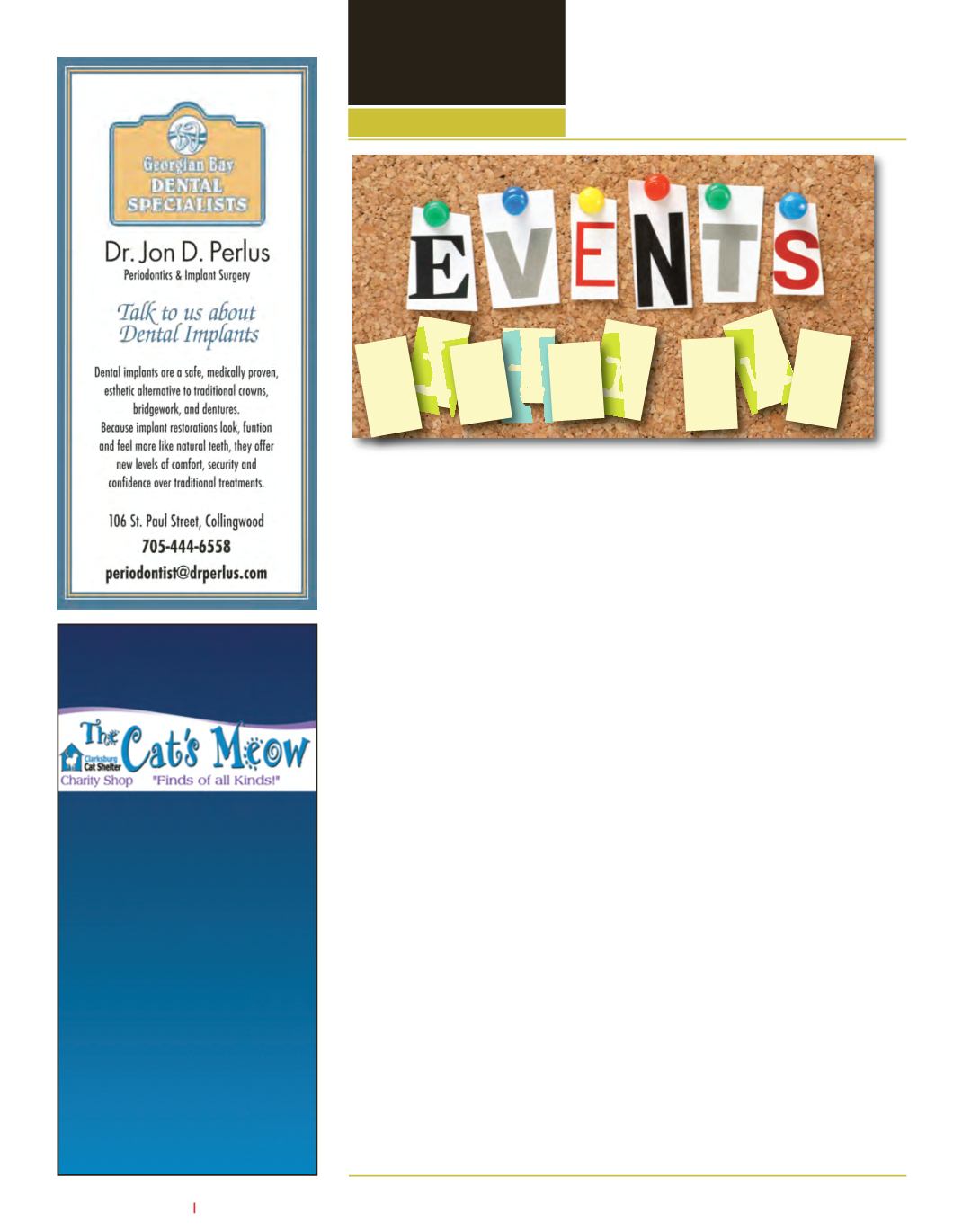 Escarpment Magazine Winter 2014
Womens Snowboard Federation Park Day -
Sat Jan 18 - 1-day all-girl snowboard coaching tour with a focus progressing park and all-
mountain skills. It's a fun and progressive day out on the mountain and in the park!
Meeting room: Spectacular, Blue Mountain Inn
|E|
The Marsh Street Centre, Clarksburg - 2014 Tribute Series:
Jan 25 - Crisis? What Crisis? (Canada's Supertramp experience)
Feb 22- Hot Rocks (Toronto's Rolling Stones tribute)
Mar 22- The Fab Four (The Beatles)
Buy tickets for all 3 for $105 or $40 each.
|E|
The Marsh Street Centre, Clarksburg - Educational Day
Friday-Jan. 31: 11am-7pm - Educational Day|speakers|food sampling|Demonstrations
Tickets incl. food|samples|goody bags. $25 adv.-$30 at door -
|E|
Jan 18 - 19 - Skate Canada sanctioned competition for skaters of all
ages. The Beaver Valley Arena in Thornbury.
|E|
Lord Grey's English Country Dance Society -
Sundays Jan. 26, Feb. 23, Mar. 9, and April 13 & 27 from 1:45-4:00 pm at Marsh St.
Center, 187 Marsh St., Clarksburg. This will be in preparation of a costume ball May 20.
$5.00 per person at the door. No partner necessary. There will be a review of dances in
the early afternoon before the ball. For info. go to
|E|
Annual Royal LePage Hospice Ski Day -
Thurs, Feb 6 - 8:30am - 5:00pm - Craigleith Ski Club - Ski & Lunch $125.00
New! Snowshoers will have a lift to the top at 9:30am.
Music Entertainment- Apres Ski Activities-Raffles-Silent Auction
|E|
Share the Warmth - Charity Trunk Sale
Fri, Feb 7 - 12noon to 9pm - Birch & Co - Water Street, Blue Mountain Village
10% of profits donated to Hospice Georgian Triangle
Complimentary faux-fur scarf w/purchase of a Sentaler Coat for the first 50 customers
|E|
Housewares . Toys . Books
Good, Clean Donated items
Regular Cat Chow, Whiskas
Clumping litter is also welcome.
These items can be dropped off at the
Clarksburg Cat Shelter, Marsh St.or
The Cat's Meow Charity Shop, Meaford
on Friday & Saturday - 9:30 am - 5 pm
& Sunday - 11:00 am - 4:00 pm.
Thank you for your support!
®
ARTS & EVENTS
things to enjoy