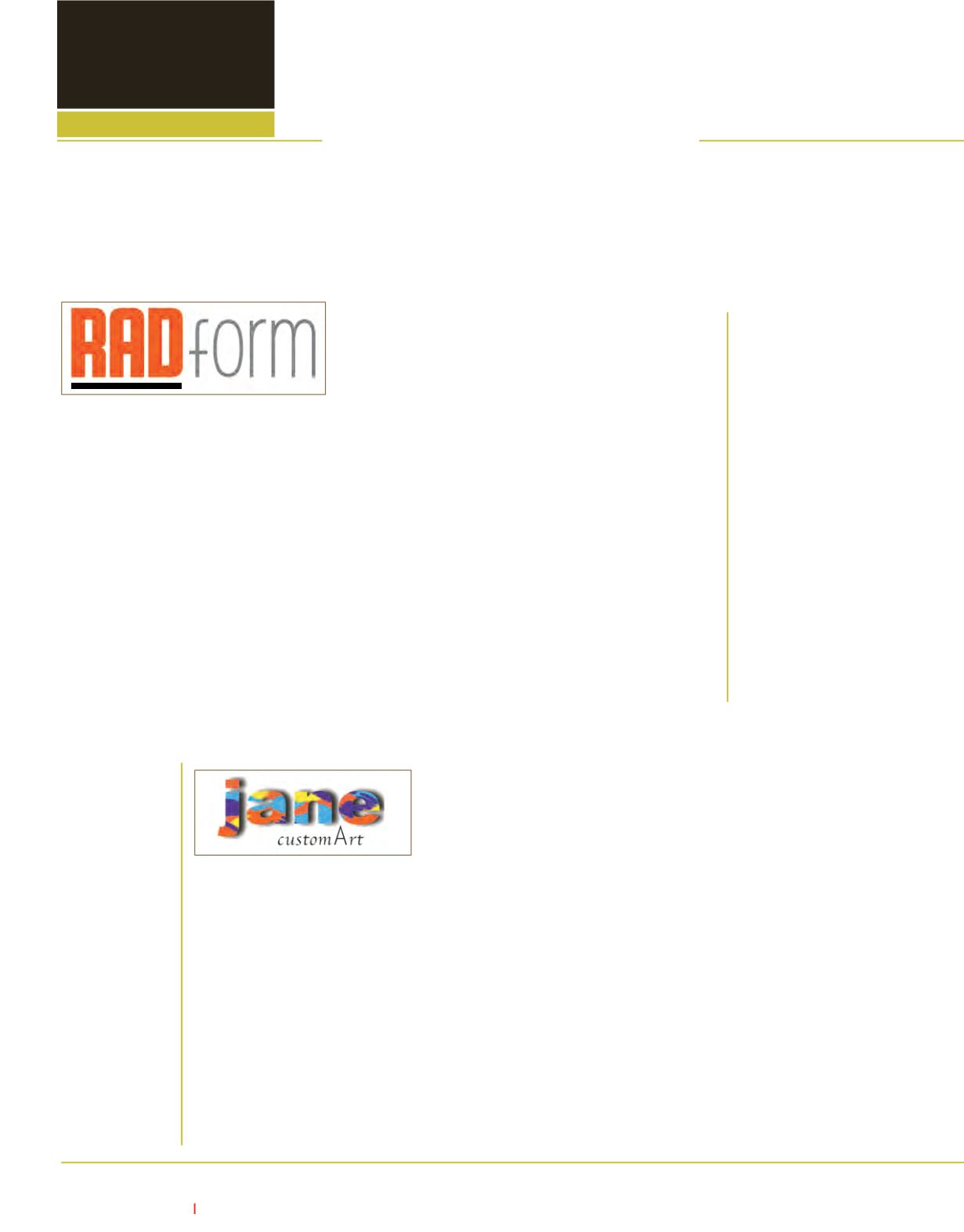 ®
BUSINESS SPOTLIGHTS
Golbou Rad has been showcasing her award win-
ning Architecture and Interior Designer skills at some of the most
respected architecture and design firms in the GTA as well as sev-
eral custom projects around The BlueMountains. Transitioning be-
tween the complementary worlds of architecture and interior
design, she found herself engaging with clients about furnishings, textiles and lighting and in the process discovered
that many of her favorite lines are unavailable in Southern Ontario. This ongoing search for exceptional signature
pieces, which meet an uncompromising standard of quality, has led to the creation of the exciting, new retail venture
RADform. Founder and Design Curator, Golbou Rad believes that furniture should tell a story from a distinct point
RADform brings together unique and inspired furniture, lighting and design accessories from around the world.
Each item is handpicked not only for its design attributes, but also for the high quality of its materials, workmanship
and construction. These are not just products you will live with; they are items you will fall in love with. In Golbou's
words, "We curate the world's latest design ideas, including the works of both established designers and emerging
masters, and bring them to you."
RADform is about seductive, sophisticated, and whimsical furniture, lighting, wallpaper and accessories and is the
exclusive retailer of furniture and accessories for several renowned European manufacturers, including Italy's
Creazioni. Do spend some time browsing the RADform website and online catalog to discover them for yourself.
Showroom location: 205 Frederick Street, Suite 103, Toronto 416.831.1509
|E|
a Visual and Creative Arts Diploma from Haliburton School of
the Arts, Janie Grice chose the artistic village of Thornbury in which to settle. Sur-
rounded by her craft, her cozy studio doubles as her living quarters and in Janie's
words, "Art often spills over to the rest of the space."
Jane CustomArt is dedicated to producing one-of-a-kind art pieces that complement
a chosen decor. Janie's clients enjoy personal, in-home service and collaboration to create custom art pieces and incredible
room dividers. With her wide range of artistic interests and skills, Janie creates extraordinary soothing landscapes, colourful
abstracts, imaginative collages, and interesting pieces pleasing to both sight and touch.
Bursting with colour and texture, Janie's creations evoke emotion and mimic intense movement, like her incredible 'Sofa
Paintings' series. Almost every home decorator has had to answer the question, "What do I hang over the sofa?" Janie
explains, "The best answer may be an original, personally meaningful painting that is correctly proportioned for the wall
space. Original art says that you are a discerning individual with your own ideas about beauty and art. When the artist
comes into your space to absorb the elements of your decor, a dialogue begins that leads to the perfect painting that could
exist nowhere else but your home."
Jane CustomArt hangs in private collections throughout Ontario and the U.S. and she currently exhibits at Mathilda Swan-
son Gallery in Clarksburg, Van Allen Design, EcoInhabit, and at public art shows in Collingwood and Toronto.
|E|
Ventures
Escarpment Magazine Winter 2014