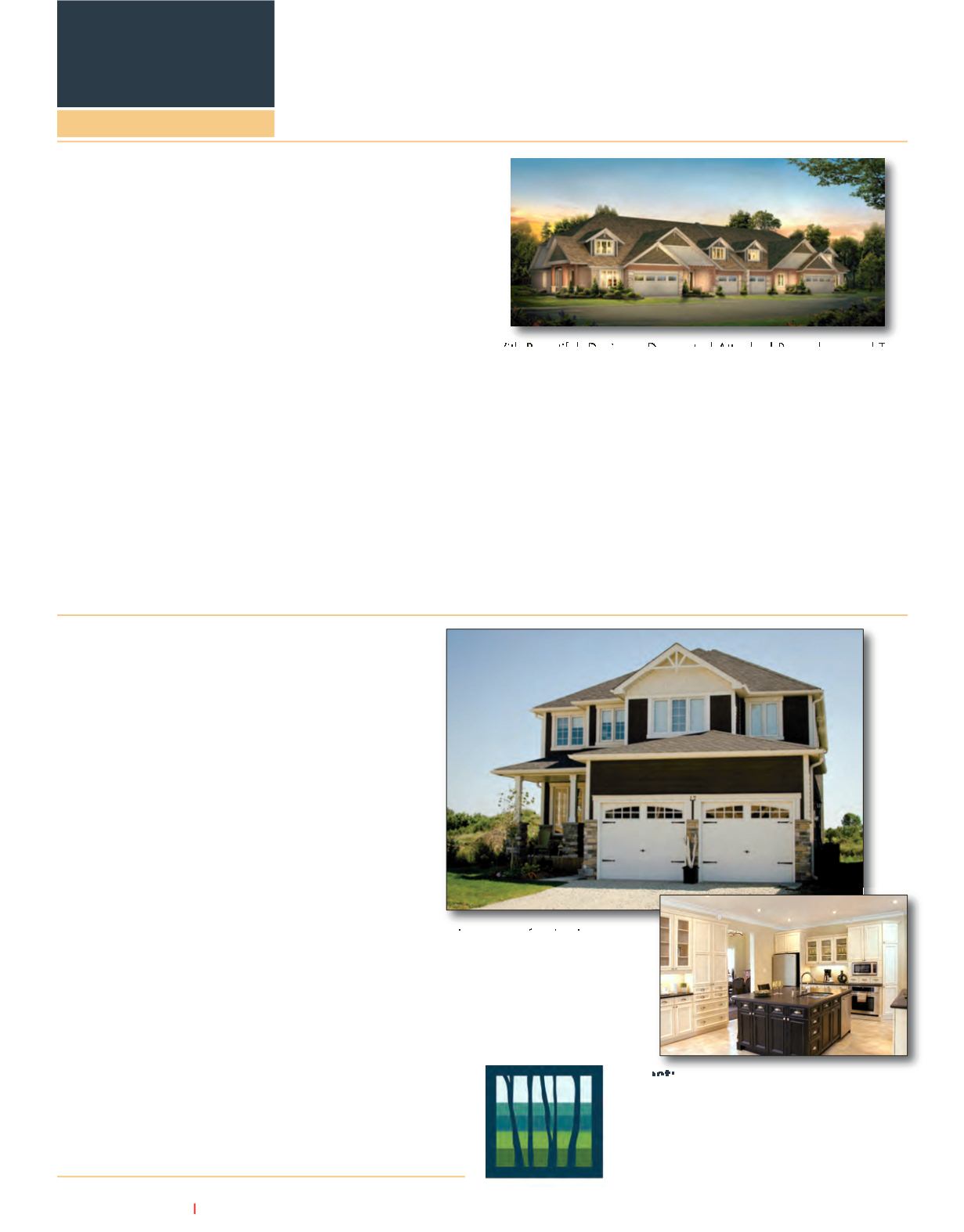 Escarpment Magazine Winter 2014
you are an outdoor enthusiast, or an in-town socialite...
Whether ambitious weekender, or daily recreational mover-and-
shaker... Whether an energetic young professional, or a freedom-seek-
ing retiree... For all those who are just as concerned with loving life as
they are with living it, the community of Silver Glen Preserve is for you!
Set at the edge of the country, in the heart of Ontario's four-season recre-
ational hub, this exceptional community offers a prime in-town Colling-
wood location, close to all amenities. On the doorstep of BlueMountain
and Georgian Bay, and just a quick drive to Toronto, Silver Glen Pre-
serve offers the ideal living environment for those looking for the best
With contemporary finishes and precision planning, Silver Glen Pre-
serve properties are designed with an eye for style that truly allows you
to make your home your own. Moreover, this stunning, master-planned
community offers residents the dream-life of maintenance free living in
an area renowned for its abundance of all-season in-town and outdoor
active lifestyle opportunities.
With Beautiful, Designer Decorated Attached Bungalows and Two-
Storey Town Model Homes NOWOPEN, there has never been a bet-
ter time to move into The Life You Love.
Nature enthusiasts will greatly appreciate the nearby Blue Mountains
featuring spectacular trials, including Canada's oldest and longest foot-
path, the Bruce Trail, perfect for skiing, hiking and biking. Furthermore,
a remarkable number of golf courses also grace the region including
the Blue Mountain Golf Club, which is only minutes away.
|E|
who love the active year-round outdoors lifestyle, love
Mountaincroft in Collingwood by Grandview Homes.
With bungalow, raised bungalow and 2-storey homes, Phase 3
at Mountaincroft will be a favourite among discerning buyers.
These craftsman style 2 to 5-bedroom homes range in size from
1,270 sf. to 3,650 sf. on 35', 40', 45' and 50' lots starting from
$262,990. The landscaping package, included with every
home, means your neighbourhood looks finished and more at-
Classic yet modern full brick or full wood siding exteriors envelop the interiors families love; open
concept spaces, bright kitchens and standard finishes other builders call upgrades such as Kohler
fixtures, a hardwood staircase and 9' ceilings. The decorated model home, located at the northeast
corner of Poplar Sideroad andHigh Street, dramatically illustrates Grandview's commitment to quality.
People are also choosingMountaincroft for its location; a park and nearby nature trail, quick access
to BlueMountain, Highways 26 and 124, Downtown Collingwood, schools and the Georgian Trail.
Mountaincroft – for peope who love the finer things in life.
The community is now selling well into Phase 3, which features only 83 detached homes.
Closing dates are scheduled for May / June 2014 and later.
|E|
®
REAL ESTATE
Model Homes & Presentation Centre:
Thursday to Monday - Noon - 5:00pm
(Silver Glen Blvd., Off Hwy 26)
Sales Manager
705.444.0333 866.775.0333
Spotlights on
New Home Developments
in Collingwood