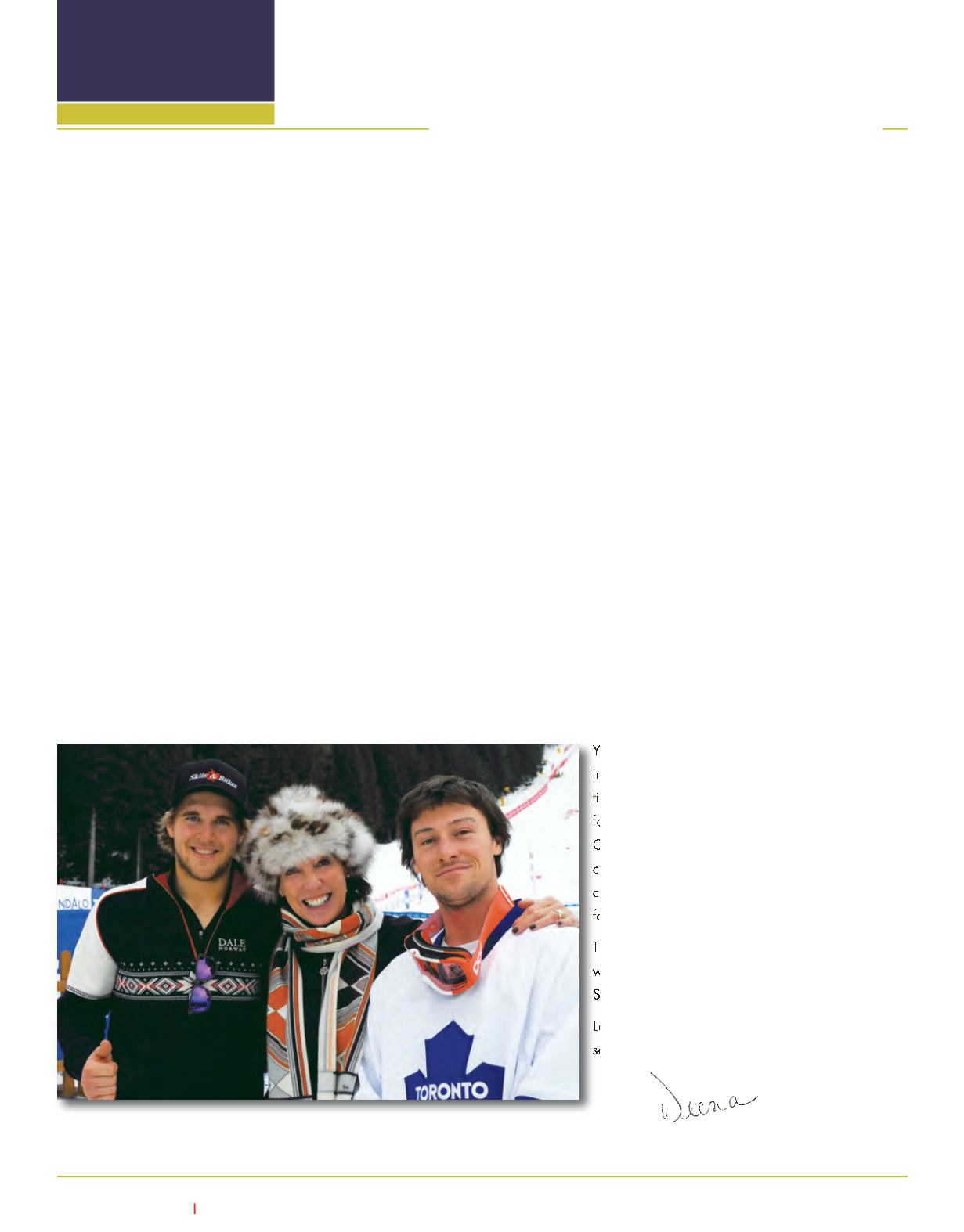 ®
editor's note
It's taken very seriously in these parts. Play brought most of here and keeps us here. Play
gets the family loaded up on Friday afternoons, to drive through often challenging conditions.
Play is full of anticipation. Play is the purpose of the weekend.
Play is the ultimate fountain of youth, it's an equalizer, a humbler, a tease and a builder of char-
acter. Play will glue our focus, help us grow, bring us together and teach us to laugh and cry
with dignity. Play encourages us to push the limits of our endurance.
Play is necessary. Play is a pal.
This issue is packed with play, beginning with our exclusive, feature story on "Alpine Rockfest"
(pgs. 18—30) by Cara Williams. This annual, invitational event brings the top, male alpine ski
racers together for a day of play — and a chance for a big, bankable reward. When we learned
that World Cup Racers, Phil Brown (Craigleith Ski Club) and David Donaldson (Georgian
Peaks) were competing, we knew we had to bring you the story. As it happened, Cara, who is
my daughter, was contracted as Media Coordinator for the event and her husband Dak was
"Chief of Race", so my husband Doug and I were invited to don our "Nanny and Papa" hats
and join in the fun—helping out with child care and tons of play in the Dolomites. Doug also
spent lots of time working on the course—a dream come true. It was magical.
You will read more about ski racing and the
importance of play in our feature, "In Conversa-
tion with Brian Stemmle" (pgs. 32—34). Brian, a
former Canadian Alpine Ski Team member and
Olympian is another Georgian Peaks skier. His
candid comments about the sport of skiing, racing,
competition and the importance of friends and
family are both thought provoking and inspiring.
The spirit of play will unite us all in February as we
watch many of our local athletes compete in
Sochi—the ultimate celebration of play.
Let's all get outside this Winter to engage in some
serious play, laughter and fun. Go Canada.
|E|
EDITOR
|
PUBLISHER
|
DESIGNER
Enjoying an après moment in Andalo, Trentino, Italy with Alpine Rockfest competitors,
Phil Brown and David Donaldson - two boys who grew up skiing right here on the Escarpment.
Escarpment Magazine Winter 2014